2001 CDI Stuttgart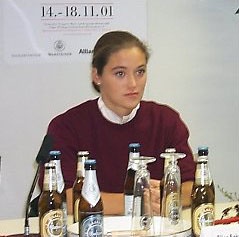 The finals of the Piaff Forderpreis at the CDI-W in Stuttgart, Germany, were the occassion for a rare moment in the equestrian world.
All eight finalists went to the sponsor of the Piaff Forderpreis to personally thank him for organizing and financing this new initiative on the German Dressage Scene. Klaus Rheinberger, chairman of the Liselott Schindling Foundation for the Promotion of Dressage, was the brain and wallet behind the Piaff Forderpreis, which was named after Liselott Schindling's legendary Grand Prix horse Piaff.
The Piaff Forderpreis is a prize to be won by Grand Prix riders under the age of 25 through a series of qualifiers and a final. It was Ellen Schulten-Baumer who took away the first ever overall Piaff Forderpreis. "I speak for my collegues as well when I saw that we are very much aware of the rareity of this circuit and finals which took place at the biggest dressage competitions in Germany," Schulten-Baumer stated.
With 1447 points, the 22-year-old Schulten-Baumer won the finals aboard the Hanoverian Lesotho (by Lauries Crusador xx). "My horse still has so much potential and next year I will ride Grand Prix with him. We're getting our feet wet at that level and then see what happens," Schulten-Baumer explained.
Trained by her stepfather Dr Uwe Schulten-Baumer, Ellen is the number one rider of his barn since Isabell Werth left for Madeleine Winter-Schulze. "Der Doktor" also received an honorary award as he was the trainer of the winning combination. "We want to encourage trainers to get their students to Grand Prix level through this prize," German Dressage Team trainer Holger Schmezer said.
Cora Jacobs finished second on Granat with 1370 points. Jacobs is trained by Christoph von Daehne. Tina Wehlmann ended third aboard Whenever. The reserve European Young Riders Champion (in 1999) recently switched trainers. She went from Hermann Gossmeier to Rudolf Zeilinger.
Related Links
Scores 2001 CDI Stuttgart
Otto Lorke Preis for Ann Kathrin Kroth