German Dressage News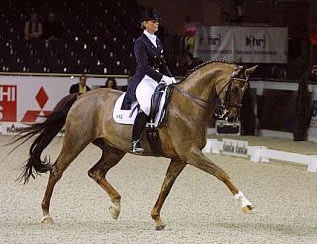 Ann Kathrin Kroth-Linsenhoff received the annual Otto Lörke Prize out of the hand of her stepfather Klaus Rheinberger, the chairman of the Liselott Schindling Foundation for the Promotion of Dressage.
The Otto Lörke Prize is awarded to the most successful upcoming horse/rider combination of the year. The German Olympic Equestrian Committee awards this prize to the rider, owner and breeder of the horse (which can be maximum 10 years of age and has to have been placed in the top 5 in a Grand Prix test the past year)
Ann Kathrin Kroth, rider and owner of the Westfalian gelding Renoir R, received the award "The Wild Horse" in Swarovski crystal and Trainer Martin Rath received a check of 3,000 Deutsch Marks. Renoir R, who finished second three times in a Grand Prix and Special, received 1000 kilograms oats.
The Otto Lörke Prize is annually awared at the Stuttgart German Masters in Stuttgart (D).
Related Link
2001 CDI Stuttgart Scores