2001 Dressage at Devon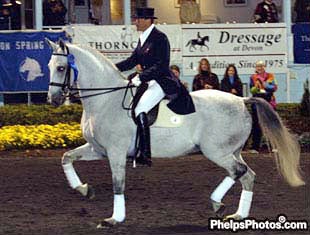 The fourth day of 2001 Dressage at Devon was a Canadian conquest, at least at FEI level in the CDI*** competition. Judges Ernes, Hess and Ludwig needed all day to scrutinize the performances of the 39 riders in the FEI Prix St Georges class.
 It was Shannon Oldham-Dueck on Leoliet who they liked most. Oldham-Dueck rode a fluent, almost flawless test on her Dutch bred Zeoliet offspring and beat German native, but American resident, Daniel Groenke with only a 0.333 percentage difference.
Groenke found the control buttons on her Gitano (by Contard) easily and steered him through a 69.167% test. Former Dutch Dressage team rider Suzanne van Cuyk, who seemed to have a life time subscription on victories at Devon, had to be content with a third place this year. Her KWPN gelding Iago (by Pele) scored 68.667%.
The quality of dressage training was extremely high in the FEI Prix St Georges division. Fifteen out of thirty-five riders received a 65% or above score and thirty-two were marked above 60%, which is an indicator for the progress American dressage has made year after year.
Shannon Oldham-Dueck came quite close to another win in the CDI competition. With Korona (by El Corona) she hit 64.040% in the FEI Grand Prix and placed seventh. It was Canadian Neil Ishoy who surprisingly beat Olympic bronze medallist Sue Blinks. Ishoy really had his act together aboard Andiamo Tyme. The "Tide-white" Oldenburg gelding by Andiamo is owned by Linda Fowler and was discovered by Evi Strasser from Good Tyme Stables. Neil Ishoy, who was a Canadian eventing team rider in 1982, rode a top piaffe-passage tour out of Andiamo Tyme in the Grand Prix and got a score of 67.960%
Sue Blinks made her rentree with Flim Flam here at Devon. After a one-year sabbatical, the Hanoverian gelding by Wilhem Tell looks in shape, happy and healthy. Blinks rode a clean, sweet test with her horse and, although he spooked once, they seemed to have ridden the winning test of the night. Unfortunately, they scored 67.560% and were 0.400% short to tie with Ishoy.
Tina Konyot and the Russian black Abrikos form a gorgeous, elegant pair. With a very expressive and powerful test, Konyot ranked third with 65.600%. Abrikos, formerly shown by Colombian Marko Bernal, has a super piaffe and passage and really excels in the trot tour. But his canter, however, could be more ground covering and Abrikos really needs more opening of the frame in order to get large flying changes. With the love of her life, the KWPN gelding Justice, Konyot placed fourth.
Shelly Francis appeared on the scene with her new mare Gala. The lovely bay German bred by Goldstrand has much potential and a first score of 64.800% is very promising for the future. A surprising disappointment came from Besty Steiner and Rainier. The pair looked wonderful in the warm up and were actually the favorites for the victory in the FEI Grand Prix, but in the ring Rainier blocked in the walk pirouette and refused to go. Betsy Steiner got him back on track and was able to perform some devine movements with the Oldenburg Ramiro x Figaro get. Rainier has the world's best piaffe and passage (better than Olympic Ferro or Goliath) but the damage was done. Steiner placed 16th with 61.920%. After her test Rainier looked extremely fatigued. Let's hope he'll be recoved for Saturday's Grand Prix freestyle, because Betsy and Rainier definitely are on their way to become America's most beautiful and loved pair of the dressage scene.
Related Link: HorsesDaily "On the Scene" at 2001 Dressage at Devon