2001 Dressage at Devon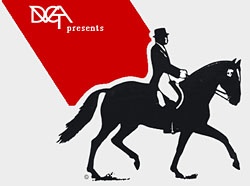 Mary's adorable corgi Gizmo woke me up round 8 AM, as she came scracthing at the door. Working day started at 9 AM today and I had to upload a bunch of press releases onto the Horsesdaily server.
 PR's are a routine job for me. Meanwhile, I got acquainted with Ken Delaurentis, who is Mary's web technician and computer doctor. He spiced up her laptop so that it would be ready to go on the road for three weeks as Mary and JJ are covering Devon, the Medal Finals and the Regional Finals in October as season closener.
Round 2 PM, I was ready with my computer work and fluttered about in the house. I started writing this dairy of my visit to Mary's. A pleasant surprise came round 3 PM. It appeared to me that Mary had an appointment, so suddenly everybody had to get ready to leave. Mary took out her 1986 Ford Mustang convertible, pulled down the top and told me and JJ to get in. She had mentioned about driving to St Augustine yesterday but I actually had the impression that she needed to go somewhere else today.
We drove to Jenny Craig's meeting center in Daytona and, while Mary was getting her food, JJ and I went to Best Buy to get an external CD Writer for the laptop. I quickly took a peek inside Barnes and Noble Book Store, because my brother requested me to bring some Star Wars books back home, but the ones he asked for where not there. We then drove to Daytona Beach and took the coastal route to Flagler and St Augustine. It was a wonderful ride. Although it was hot and sunny outside, the frontal breeze hitting your face (from driving in the convertible) was devine. I watched pelicans fly over the car, surfers fighting the curl of the Atlantic and boats setting sail for the open sea. We crossed a gorgeous bridge right before getting into St Augustine and then toured the city by car. The city holds beautiful buildings with a clearly Spanish influence.
At 6 PM we had dinner near the marina and I ate stuffed flounder, which was great. I ordered a chardonnay and the lady didn't even ask for my ID. JJ said that that was typical when you turn 21; then they never ask for your ID. Bummer. We got home in Deleon Springs at 10 PM and I immediately turned in.