2001 World Championships for Young Dressage Horses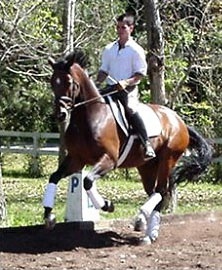 Canada fielded its largest team ever of young dressage horses to the FEI World Breeding Championships held Aug. 9-12, 2001, where 68 of the world's top young dressage horses gathered form 14 different nations to battle for world rankings.
The four-horse team of five and six-year-olds was comprised of Tom Dvorak of Hillsburgh, ON, aboard Fortissimo, a five-year-old Hanoverian gelding owned by Alyson Carpenter, Leonie Bramall based out of Hunxe, GER, on Boticello 2, six-year-old Hessen stallion owned by Hans Jurgen Niepelt, Evi Strasser of St-Adele, PQ, and her horse Quantumtyme, a six-year-old Oldenburg gelding, and Jon Costin of Puslinch, ON, riding Rebel Rockstar, a six year-old Belgium warmblood gelding owned by Rebelwarmbloods.com and Nicole Van Doorne.
The World Championship was comprised of two divisions- one for five-year-olds and the other for six-year-old horses. The competition consisted of two qualifying rounds with a final for each group with the top 15 horses in each division, based on the combined scores of their two qualifiers moving on to the final. The FEI dressage test for five year olds, is the equivalent to Basic IV/Medium I level, and FEI test for six year olds is similar to Medium II.
Dvorak and Fortissimo finished tied for 17th in the first round and tied for 19th after the second qualifier. The pair finished 20th in the world for five-year-old dressage horses. "It was a great experience for the young horses," noted Dvorak. "We have quality dressage horses in Canada."
In the first qualifier for six-year-olds, Bramall and Boticello 2 were ranked sixth, Strasser and Quantumtyme were tied for 11th, and locked in a three-way tie for 19th was Costin and Rebel Rockstar. The second qualifier placed Bramall in fifth, Strasser in a tie for eighth, and Costin moved up to a three-way tie for 12th place.
Bramall and Strasser moved into the final round of competition where Bramall and Boticello 2 finished ninth in the world for 6 year olds, Strasser and Quantumtyme were awarded 14th. Costin and Rebel Rockstar placed 17th.
"The fabulous owners paid for the opportunity to show case these great young Canadian horses," mentioned Costin. "We demonstrated that our quality is up there with the rest of the world." Dressage comes from the French word dresseur, meaning 'to train'.
Dressage is an equestrian sport combining athletic ability with physical grace of the horse. Originally, it was used to train horses for battle in the 16th and 17th centuries. Riders now perform tests, containing a series of compulsory technical movements, which are each marked on a scale of zero to ten by a panel of three to five judges. Dressage can be likened to figure skating, in it's elegance and has often been referred to as dancing on horseback. Like skating, dressage also has a musical freestyle where the rider designs their own choreography incorporating the compulsory technical movements to their choice of music. The key to achieving a high score is for the horse to demonstrate expressive powerful and harmonious movements while the rider's aids or cues are hardly noticeable.