2001 World Championships for Young Dressage Horses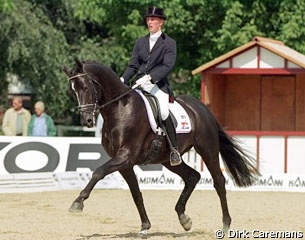 Frenk Jespers, O-judge Jan Peeters and dressage trainer Bert Rutter, all members of the Pavo-commission, have selected the following KWPN bred horses to represent The Netherlands at the 2001 World Breeders' Championships for Young Dressage Horses in Verden, Germany.
5-year-old horses
O'Brian (Flemmingh x Maestro, breeder M.H. Ansems-Rozendaal - rider: Seth Boschman)
Olando (Jetset D x Rinaldo, breeder H.J.A. van Geffen - rider: Nico Vroege)
OO Seven (Rubinstein x Doruto pref, breeder I.G.M. van Gisbergen-Sponselee - rider: Imke Bartels)
Rubels (Rafurstinels x Amethist, breeder H.J.F. Spekenbrink - rider: Hans Peter Minderhout)
Osmium (Ferro keur x Calypso I, breeder A. van de Tillaart rider: Nicolette van Lierop)
Reserve: Orlanda (Ferro keur x Mytens xx, breeder L.A. Moll -rider: Marijke Folmer)
6-year-old horses
Ainsley's Nartan (Jazz x Le Faquin xx keur, breeder W.J.A. van Loveren - rider: Jeanette Haazen)
Navratilova (aka Noraly - by Jetset D x Rivaal, breeder J. Berendsen - rider: Christa Laarakkers)
Newton (Einstein x Actueel, breeder S.L. Grandia - rider José Kouwenhoven)
Norman (Highline x Roemer pref, breeder W. Verkuylen - rider: Patrick van der Meer)
Broere Norway (Jazz x Ulft keur, breeder Stoeterij Broere B.V. - rider: Kirsten Beckers)
Reserve: Natcho (Hofnar x Lt.Generaal, breeder L. van Roessel - rider: Geertje Roefs)
The Netherlands received two wild cards through which they were able to add two extra horses on the entry list: Obsession (Peter Pan x Renville, breeder: Jacatra B.V. from Enkhuizen) ridden by Oliver Oelrich. Negro (Ferro keur x Variant, breeder W. Borgers from Lunteren) ridden by Anne van Olst.