2001 World Championships for Young Dressage Horses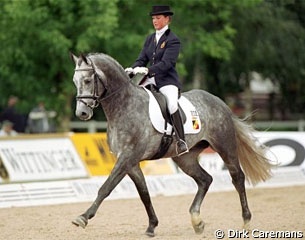 The following eight combinations have been nominated by the Royal Belgian Equestrian Federation (KBRSF) for the World Championships for Young Dressage Horses, August 8 - 12, 2001, in Verden, Germany.
 The nominations are based on the provisional ranking of the Cup of Belgium for Young Dressage Horses.
While the KBRSF has nominated eight pairs, only four of them are currently officially allowed to compete in Verden. In the 5-year-old division, Vicky Smits with Pava Jr and Stefan van Ingelgem with Dom Perignon are definitely selected. In the 6-year-old class, Stefan van Ingelgem with Saros van het Gestelhof and Sophie Baetens-Van Lent with Dark Diamant are certain of an entry in the championships. The organisation of the Championships can later decide to allow more combinations per country into the championships.
5-year-old dressage horses :
Pava jr. van de Helle (rider: Vicky Smits)
Gender: Stallion
Breed : Rhinelander
Sire : Pavarotti van de Helle 
Dam : Udine 
Dam Sire: Urioso 
Breeder : Stoeterij van de Helle 
Owner : Stoeterij van de Helle
Weltstein van de Helle (rider: Vicky Smits)
Gender: Stallion (Licensed with the SBS studbook)
Breed : Hanoverian
Sire: Weltmeyer
Dam : Ira
Dam Sire. : Imperator
Breeder : W. Immoor
Owner : Stoeterij van de Helle
Dom Perignon (rider: Stefan van Ingelgem)
Gender: Gelding
Breed: Hanoverian
Sire: Donnerhall
Dam: Mara 
Dam Sire. : Matcho AA
Breeder : Petra Ghaschge
Owner : Mr. & Mrs. Somers
Odysseus (rider: Guido Indencleef)
Gender: gelding
Breed: KWPN warmblood
Sire: Havidoff 
Dam: Irish W 
Dam Sire: Darwin 
Breeder : A. Van Den Heuvel 
Owner : Guido Indencleef
6-year-old dressage horses :
Saros van het Gestelfhof (rider: Stefan van Ingelgem)
Gender: Stallion (Licensed with the BWP studbook)
Breed: BWP Belgian warmblood
Sire: Ramiro 
Dam: Erle van de Helle 
Dam Sire: Pik König 
Breeder : Louis Van Gestel 
Owner : Louis Van Gestel
Dark Diamant (rider: Sophie Baetens/Van Lent)
Gender: Gelding
Breed: Hanoverian
Sire : Davignon
Dam: Schwalbenlust
Dam Sire: Enrico Caruso
Breeder : Otto Langels
Owner : Sophie Van Lent-Baetens
Mister Ed (rider: Helen Wielockx)
Gender: Gelding
Breed: Westfalian
Sire : Montmartre
Dam : Elena
Dam Sire: Ehrensold
Breeder : Wilfried Stute
Owner: Helen Wielockx
Acapulco (rider: Ingrid Daeleman)
Gender: Gelding
Breed: Hanoverian
Sire: Argument
Dam: Anthea
Dam Sire: Acapulco
Breeder : Inge Heisiner
Owner: Ingrid Daeleman