2001 CDIO Aachen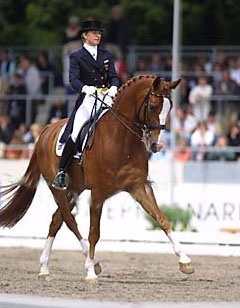 The 2001 Edition of the CDIO Aachen was a two-men-show with Germans Ulla Salzgeber and Nadine Capellmann as protagonists. The duo reigned supreme at Grand Prix level in the CDI and CDIO competitions
and demonstrated that Germany is most likely going to win the European Championships in Verden, August 8-12, 2001.
In the CDIO division, Ulla Salzgeber presented a light-feeted, well trained Rusty who won the Grand Prix with 76.48%, became second in the Special with 79.35% and dominated the freestyle with 83.59%. Salzgeber rode her Olympic kur which features the theme of Carmina Burana to highlight Rusty's impressive trotwork. "This is the kur which matches best with Rusty's movements. Gigolo only had one ultimate kur in his life and I am going to keep this one until I stop competing Rusty. The music is perfect. I couldn't make a better one that matches Rusty more," Salzgeber commented afterwards. Salzgeber is currently the number one of the world, a position which she cherishes much but of which she realizes the fragility. "I know that I am the number one right now, but that is because I rode no mistakes here in Aachen, and the others did. When the others are flawless and I make a mistake, I won't be number one any more. It's that simple," she said. Clear talk of a sober rider who is probably going to become the new European Champion.
Nadine Capellmann was the only rider who put real pressure on Salzgeber's shoulder in the CDIO competition. Her Farbenfroh (Westfalian by Freudentanzer) has become more relaxed and is simply hallucinating in the piaffe, passage and extended trot. Capellmann was fifth in the Grand Prix (70.96%), won the Special (79.44%) and became second in the kur (82.51%). In the CDI competition, Capellmann rode her 17-year-old Westfalian Gracioso to victory in the Grand Prix and Special with scores of 74.40% and 73.16%.
Alexandra Simons-De Ridder made her first appearance of the year with her Chacomo. After a long and slow recovery period of her injured Holsteiner gelding, the pair was not yet in a shape suitable for a world class competition as Aachen. Even though De Ridder's heavy hand work in all three tests blurred the image of perfect harmony between rider and horse, Chacomo was still there and is a horse to take into account for the European Championships. "I know I'm teetering on the brink of a 5th position in the German Team, but I'm going to fight for it," De Ridder commented. German Chef d'Equipe Madeleine Winter-Schulze, who became 60 June 28, will most likely assemble her German team with Salzgeber, Capellmann, Kemmer and Werth.
Like expected, did Germany win the CDIO Nations' Cup in Aachen. The team gathered 5524 points, while Holland followed in the distance with 5156 points. With the injuries of Gestion Goliath, Gestion Partout and Olympic Ferro, and the retirement of Gestion Bonfire, the Dutch team has lost its grandeur and strength. Although Gonnelien Rotherberger-Gordijn aboard Jonggor's Weyden (Hanoverian by Western Star) has recently won the Dutch Dressage Championships, her second horse Leonardo da Vinci (Oldenburger by Landadel) is not yet the routinier to get secure scores for a team. Anky van Grunsven's Gestion Idool is a beautiful KWPN gelding showing great training, but he simply lacks the greatness of a Bonfire and it is highly unlikely that Idool will rise to stardom. Imke Bartels and her 17-year-old Olympic Barbria are aware that they have reached the limit of their capabilities as a pair and can not score higher than a decent 66%. Nevertheless, Holger Schmezer, German team trainer, doesn't feel that safe about Germany's number one position. "The Dutch have lost much strength due to the injuries of several horses, but I'm sure that they have a surprise in store for us," Schmezer said.
The CHIO Aachen 2001 edition was completely imbued by a Spanish atmosphere. The World Equestrian Games are hosted by Spain next year and the Spanish delegation in Aachen wanted to remind the crowds of what they will be offering at the Games. The surprise of the CDIO competition came from Spanish top rider Raphael Soto and his Andalusian Invasor. Spain captured a third place in the nations' cup and Soto added even more to the success story of the Spanish quartet that performed in Aachen. In the Kur to Music, Soto rode a freestyle that got rewarded with a 78.76% mark and a fourth place. His Invasor excels in the piaffe and passage and the artistic level of his kur was very high, but the judges were very mild to offer Soto such a score, as Invasor becomes too hectic in the trotwork and loses balances constantly. Nevertheless did Soto make a statement that next year one has to travel to Jerez de la Frontera to see some top level dressage action!
Text by Astrid Appels
Image Reproduced with permission: Arnd Bronkhorst (all photos are copyrighted)