2001 Danish Dressage Championships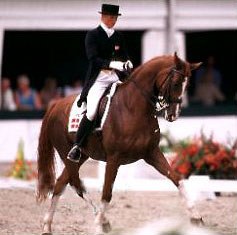 Under a bright, blue sky, a few thousand spectators found their way to the Vallensbaek Equestrian Center where the 2001 Danish Dressage Championships were organised.
Friday June 25 and Saturday June 26, the 22 best Danish Dressage riders competed in the Grand Prix and the Special, but only the 12 best were allowed to ride the ultimate final, the Grand Prix Freestyle, on, Sunday May 27, 2001. Lars Petersen, who is the steady rider at Keld Kirl Kristiansens' stud farm Blue Hors, placed second after the two qualifying tests with his Hanoverian gelding Blue Hors Cavan (by Cavalier). Petersen won the championships the last three years but now had to deal with a very strong competitor. Jorgenssen, who lives in Germany but carries the Danish nationality, is improving year after year and was now able to finish first in the Grand Prix and Special.
In the Kur to Music, Lars Petersen rode a nice, quality freestyle that only put extra pressure on Lone Jorgenssen. Just like at the Olympic Games in Sydney, her Baden Wurttemberg bred Kennedy (by Tiro) entered his freestyle with some tension, resulting in a second place in the Kur. However, Jorgenssen had built up a considerable lead in the first two tests and overall she remained the dominating dame at the Championships. Her first golden medal and national dressage title was won.
The bronze medal went to her Royal Highness Nathalie Zu Saeyn-Wittgenstein. She rode her best freestyle even with her Hessian Fantast S. Trained by Klaus Balkenhol, Zu Saeyn-Wittgenstein is having an excellent European show season this year as she competed successfully in several world cup qualifiers and final.
Image copyrighted: Arnd Bronkhorst
Related Links
2001 Danish Dressage Championships - Results
2001 World Cup Dressage Finals in Aarhus, Denmark