2000 Olympic Games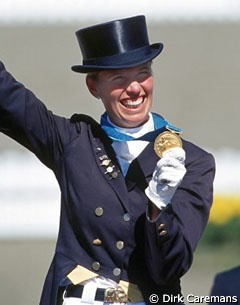 30 September 2000 - A capacity crowd watched as BONFIRE and Anky van GRUNSVEN (NED) danced their way through the freestyle to music to win the individual dressage gold medal on a score of 239.18 at the Sydney 2000 Olympic Games Equestrian Centre.
The silver went to Isabell WERTH (GER) on 234.29 and the bronze to Ulla SALZGEBER (GER) with 230.57.
Individual silver medallists in Atlanta, van GRUNSVEN and BONFIRE set the arena alight, performing the demanding Grand Prix movements with ease to a background of dramatic music. Van GRUNSVEN has set a world record with a score of 86.05% for BONFIRE'S final freestyle test.
WERTH'S compilation was entitled "GIGOLO'S Journey", a fitting tribute to her horse, GIGOLO Frh, who carried her to five Olympic medals, including an Individual gold medal in Atlanta four years ago. Now he is now to be retired from international competition.
Ulla SALZGEBER (GER) delivered the ride of a lifetime. Her music stopped halfway through the performance and she was forced to re-ride her test 35 minutes later. Riding at her first Olympics, SALZGEBER appeared unfazed by the interruption and resumed to ride a brilliant and stylish freestyle which brought her the bronze.
Nadine CAPELLMANN (GER) finished fourth. She performed a crowd-pleasing test with FARBENFROH right after SALZGEBER, but was affected by the delayed start due to the technical problems.
Image by Arnd Bronkhorst
Source Text: ® Olympics.com / SOCOG