2000 European Young Riders Championships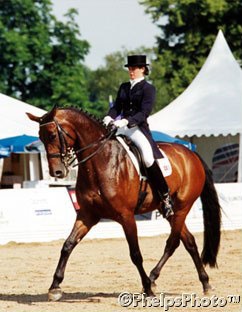 Gold for 'Nederland'
Five years ago, in 1995, it happened and this year they did it again: Holland defeated Germany in the dressage team competition at the European Young Riders Championships.
Hosted by Hartpury College in Hartpury, England, the EYRC took place from 23rd to 27th August 2000. Even though Holland took team gold and Germany had to be content with a not-so-shiny silver, the individual gold was once again for a German rider. Christine von Oldershausen, living in Schenefeld (GER), received her second, consecutive gold medal on her Holsteiner mare Amica Farina. German Chef d'Equipe Holger Schmezer was glad, but not euphoric. "I am content with the results of this European Championship but we haven't reached our actual goal," Schmezer told Thomas Hartwig, press agent for the German Equestrian Federation.
Annemiek van der Vorm Surprizes
The American Young Riders Championships were the first show to try out the new system with a Prix St. Georges freestyle as individual final and no preliminary test serving as warm up. The team championship test opened the competition and the battle was immediately heart-to-heart as the points not only counted for the team's overall, but also for an individual qualification. For a moment the gold looked secured for the German team as four of its members rode top notch scores of 68% and 69%.
Dutch Chef d'Equipe Francis Verbeek told her last, and on paper least, rider of the Dutch team that she shouldn't feel pressured because the silver was already in the bag. Annemiek van der Vorm, however, rode the test of her life with her Agrovorm's Incredible (by Voltaire); clean, clear and elegant resulting in a score of 70.92% which not only meant first place in the team test but also gold for Holland. "The euphoria in our camp was so big that I still get goosebumps when I think about it," Francis Verbeeks said. Holger Schmezer agreed with Verbeek on Van der Vorm's test. "Annemiek really performaned strongly, but both our youngest team members did very well too. The routiniers of our team rode below their level in this first test," Schmezer explained.
Nicole Giesen Strikes Twice
That the Germans are not be underestimated was proven the next day in the individual test, ridden by the 25th best combinations in the team test. Germany took strong, double-folded revenge. Not only did it claim positions one, two, three and seven, but it was also Nicole Giesen who took the lead. The 18-year-old, former European Junior Riders' Champion was highly motivated to come to Hartpury. As alternate rider she had to fill in Tina Wehlmann's position only a few days before the departure to England, as Wehlmann's Grand Fox turned lame. On Slow Fox V (by Saros xx) she rode a 69.89% test and took a provisional lead in the overall ranking. Astrid Buer set for second place with her older Hanoverian gelding What Joy (by World Cup I), while Christine von Oldershausen came in third.
Dutch Marlies van Baalen, who was second in the team test, now descended to a sixth spot with her KWPN approved stallion Inspekteur (by Darwin). Annemiek van der Vorm lost her touch and placed tenth. The Danish Nicole Ahlefeldt Laurvig-Lehn was the first non-German or Dutch rider to enter the top five. With her Esprit she rode to a 68.58% score which was good for a fifth position. German Julia Katharina von Platen made an error in her program and lost valuable points. As overall fourth riders of their team, German Julia K. von Platen and Dutch Laurens van Lieren on Rubiquil (by Rubinstein) were forced to stay on the sideline due to FEI regulations that only allow the best three of the team in the individual final.
Consistency lasts: Christine von Oldershausen
The kur to Music was the determinable test for an individual medal and honorary metal was withing reach as the overall top ten laid so closely together. It was last year's winner, Christine von Oldershausen who won the gold as she rode a highly intelligent, fluent and correct test with, for instance, flying changes and pirouettes on a serpentine. Nicole Giesen and Astrid Buer were too tensed and made some mistakes in the flying changes, which pushed them back to a final fourth and fifth place.
Annemiek van der Vorm struck back. "In the individual test he [Incredible] was a bit tired. I missed the flying changes because those are usually correct and I didn't expect anything else to happen, it's my own mistake," Van der Vorm said. However, in the freestyle Incredible's changes were correct and the canter part of her freestyle was very nice. Even though there was some loss of tact in the trot, she eventually scored 73.94% and became reserve champion. Marlies van Baalen, who rode right to the music, missed a change in the series every four strides and lost some impulsion in one of her pirouettes. Nevertheless was the performance of the 19-year-old student of Johan Hinnemann good for a 72.51% and the bronze medal.
"The kur was completely new for us," Holger Schmezer said. "It's obvious that the Dutch were better at it. We are behind them in music and choreography."