2000 European Junior Riders Championships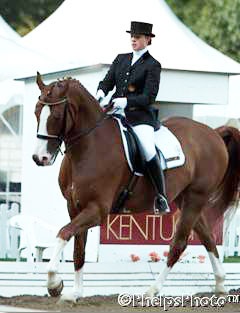 Maybe, the picturesque village of Lipica, Slovenia, can be considered as the cradle of the dressage? Hometown to the Lipizaner horse, Lipica is imbued by the breeding, training and showing of these white, four-legged starlets, which are famous for their classical dressage training at the Spanish Riding School in Vienna, Austria.
 From 15th to 20th August 2000, Lipica was the scene for the European Dressage Championships for Junior Riders. 
After five days of nerve-wrecking competition, the German Desiree Schurf was honored with the individual gold medal. The 18-year-old from Bedburg, Germany, concluded her last junior riders year in great style. On the chestnut gelding Maldini she scored 71.54% in the team test and 72.27% in the finals. The silver was for her team-mate Nikolas Kršncke who rode the Holsteiner stallion Larso to even impressive scores (71.54% and 71.03%). Victoria Max-Theurer, daughter of former Olympic gold medallist Sissy Max-Theurer, received her consecutive, second bronze medal at a European Junior Riders' Championship. 
In a long tradition of supremacy, Germany won once again team gold with a total of 3740 points. Holland followed its long-time "rival" in a distance with 3592 points and received silver. The Austrian team, carried by the successes of Victoria Max-Theurer and Caroline Kottas-Heldenberg, returned home with team bronze. 

Text by Astrid Appels 
P.S.: Katrien Verreet's Prins Donner died unexpectedly and leaves Belgium with incomplete team for the Junior Riders Championships