Eurodressage F.O.C.U.S.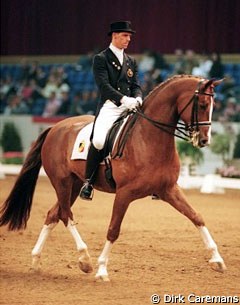 Ronaldo, Sandro Hit, Rubioso N, Rohdiamant, four shooting star Oldenburger dressage horses who made headlines in past and present. Bundeschampionate victories, World Championship titles and international stallion show trophies are attached to their names thanks to the advanced show and training skills of their German riders.
However, one combination seems to be missing in this list of quality Oldenburger sport horses and that is Remy Martin. Making his break through in 1996 and storming to sky high top scores at international Prix St. Georges - Intermediaire I level, Remy Martin enjoys his unveiling today.
The journey begins in April 1996 when the Belgian couple Carmen and Stefan van Ingelgem started their search in quest of a talented successor for Welttraum (v. Weltmeyer). The bay Hannoverian gelding was an excellent mover and enjoyed a brief but successful career under his owner and Belgian Grand Prix rider Stefan van Ingelgem.
"In 1996 there were only few specialised Young Dressage Horse Competitions in Belgium and Welttraum didn't enjoy the same fame as young stars receive nowadays in the country when they lead in such competitions," Carmen explains. As Welttraum possessed a great moving mechanism, he quickly attracted interest from abroad, resulting in a rapid sale to Mr Keller from Germany. "Mr Keller sold Welttraum to the Dutch Young Rider Renske Quellhorst". This young rider also owns the black Oldenburger Renomee (v. Rubinstein I), forming a winning combination with Nadine Capellmann at the 1997 World Championships in Verden. "After the sale to Holland, we haven't heard from him."
The need for a suitable successor that possessed movement, quality and potential drove Stefan van Ingelgem to Germany. On his first encounter with Remy Martin, Stefan was pleased with what he saw, but he had a schedule to to visit the Hannoverian Elite Auction as well. "Although we saw a good prospect in Verden, we eventually did not participate in the auction. In June we still hadn't found a youngster and that's when we made the decision." One simple phone call arranged the deal and Remy Martin was theirs.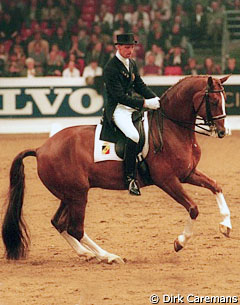 As a four year old, Remy Martin (Zuchter: Aloys Klaas) left the stable of former owner Dietmar Weinrich emigrating from his home country Germany to "Stal van Ingelgem" in Puurs, Belgium. The young chestnut gelding by Rubinstein I out of Gloria (v. Gold Ferdl) already gained valuable show experience under Johannes Augustin, as he won three out of four materialprufungen and placed second once. Remy Martin came into the ownership of Carmen van Ingelgem's mother.
"My mother, who's also an equestrian, and Mr. and Mrs. Van Laer of brood farm De Nayakker paid for Remy Martin." This co-joint ownership of the Van Laer-De Bondt combination gives Stefan and Carmen the opportunity to acquire other prospects as well. The same agreement exists with Stefan's Grand Prix horse Bravurnik, a Russian bred Anglo Hannoverian by Razbavitel from the Kaliningrad Stud farm. 
Remy Martin quickly transformed into a highly talented dressage horse with the canter as apex and the extended trot as weakness in his gaits. "Remy lies closely to Stefan's heart because he's so pleasant to ride. He's incredibly honoust and very "nervenstark". From the first day that Remy performed on the competition scene, he was immediately able to impress judges and audience by the constant image of unity he delivered. "Remy was selected to represent Belgium at the 1997 World Championships for Young Dressage Horses in Verden, but when we arrived at the show ground he turned ill. He was diagnosed with 'shipping fever'." It wasn't until a few days later that the Van Ingelgems found out that the fever was caused by distress. "Remy was missing his travel companion Prins, a bay Belgian warmblood gelding, who joined him in the truck to all shows in Belgium." 
The first victories rolled in with great speed as the Belgian show season proceded. Remy Martin won the Belgian Young Dressage Horse Championships in Gesves twice as a five and six year old. "He is a very nice horse to ride in his younger days and now. Throughout his years as a 'young horse' Remy has always been very apt to learn. His constancy in his show results was a pleasure and we carried much faith in him." As Stefan van Ingelgem often travels to Australia for clinics and training sessions, Carmen regularly took over the training of the horse. "Because of his continuous urge to learn, Stefan sometimes asked too much of him. It was on such occasions that me riding him appeared to be a good approach in his "ausbildung"with Stefan."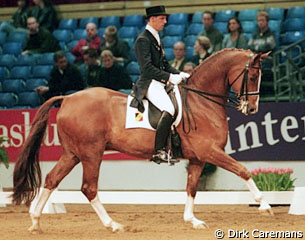 At age seven the chestnut gelding got acquainted with the Prix St. Georges test. It was on that level that Stefan gained internal recognition with this Oldenburger star. 1999 has been a moving year. "We took Remy to his first three star CDI in Villanova d'Asti, Italy, as a sort of test. Stefan had to start as second combination and he was very relaxed but when he saw the appealing scores (67.26% and 69.13%) the competition got more exciting for both rider and horse. In the Kur to Music he placed second with a 71.41%." This was the opening of an unforeseen success tour, taking the lead at Prix St. Georges-Intermediaire I level at the CDI *** Copenhagen, Saumur and Goes. "In Goes Stefan rode was judged by O-judge Jan Peeters for the second time. This was important for him because Mr. Peeters disqualified Stefan in the kur in Saumur as he took off his hat at the end of the test. Goes obviously went better than Saumur," Carmen said. With flashy 70% scores at international shows, it would be easy to presume that the pair would be undefeatable on its own soil. 
The most exciting and nerve-wrecking show of the season was the "Cup of Belgium" competition in Duffel, begin August 1999. "There is less pressure to perform well at the CDI's, however, the Cup of Belgium is the most important Prix. St. Georges show in our country for us and we were really anxious to win it." The Cup of Belgium, comparable with the Nurnberger Burgpokal finals, lures the best PSG horses and riders to Duffel. "Belgian Champion Arlette Holsters, Young Rider Vicky Smits and Jan Dupont with the Westfalian Winston (v. Weinberg) for instance, were there and the best pairs had to ride in the morning. Stefan had to start in the afternoon and we were afraid that the scores would be lower then," Carmen explained.  Nevertheless Stefan rode a frisky test taking much risk and won. "It was the most lovely victory of the season."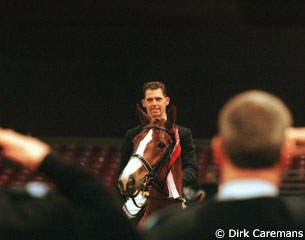 With the World Cup Finals in 's Hertogenbosch, Holland, Remy Martin and Stefan van Ingelgem accelerated to another gear, the one in which they had to show against the world's best riders. The three star CDI's mostly attract subtop riders but now the big time has arrived for the combination. The question rises whether Remy Martin will prevail and stand a chance against names like Nicole Uphoff's Relevant Karin Rehbein's Cappucino. In Den Bosch the pair conquered at Intermediaire I level with 70% scores, so the future looks promising. Renowned dressage trainer Georg Wahl once said about Remy Martin, "he's a very prosperous horse with three quality basic gaits and great rideability. This makes him a potential rising star for the future." Time will determine if Remy Martin will equalize with the international top. One thing has already been proven, namely that sovereign Rubinstein has once again produced a mount with Grand Prix potential.
© Astrid Appels 
Article also published in Oldenburger Sportpferd Magazine 
Images copyrighted Dirk Caremans - no reproduction without permission/payment