2000 CDIO Aachen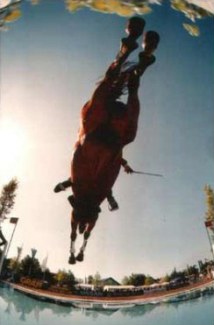 On Thursday night, the winner of the "FEI/CHIO Aachen Silver Camera Award" for the best equestrian photograph of the year was revealed during the "International Riders and Drivers Meeting".
The contest is supported by the Sparkasse and DM 5,000 cash is awarded to the winner. The jury met on Monday and included representatives of the riders, the media, the Sparkasse and the FEI, as well as the well-known professional photographer Jacques Toffi. Toffi announced the winner and gave an explanation to the runner up photo of which the photographer could not make it to Aachen. "Head over Heals" was appreciated for capturing that moment in which the horse is completely free while the rider is falling off.
1st prize: Bernard Kunz, "Flying Squad" 
2nd prize: Alexander Hassenstein, "Head over Heels" 
3rd prize: Julia Rau, "All Eyes" 
Prix Spécial du Jury : Alexander Hassenstein, "In Heaven" 
This is the second year that the Silver Camera is awarded. Last year it was presented to Elisabeth Furth, who had taken an amazing picture of Hugo Simon on the last fence of CHIO Aachen, when he realised he had won the Pulsar Crown double and more than one million US dollars.
Reserve Champion Photos: