2000 Dutch Dressage Championships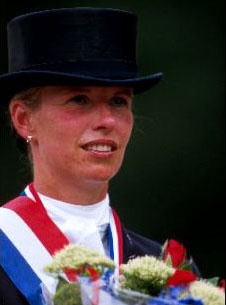 It wasn't all too difficult for her, winning her tenth national dressage champion's title. Van Grunsven is the best in Holland when she saddles her number one star Gestion Bonfire and she doesn't even feel a breath of threat when she's on the Oldenburger.
 You would think one gets used to victory but, nevertheless, Anky had to cry when she received the honorary sash. "A lot went through my mind at that moment,'" Anky confessed. "You should never underestimate Bonfire," she seriously added afterwards.
"Monster scores" were ridden at the Dutch Dressage Championships in Park Brakkestijn in Nijmegen, The Netherlands, the first weekend of July 2000. Scores were achieved which makes one reflect on the direction dressage is going to and whether it's the right one. Anky's Grand Prix test was honoured with a 77,20% but the extra-terrestrial, world record scores were established in the Special and freestyle. Bonfire danced falwlessly to a 79,40% in the special while his freestyle received an abnormal 86,79%. With these scores Anky is not only certain of the Dutch title, which last year was won by her student Arjen Teeuwissen as Bonfire had a virus infection, but she is even more secured for a gold medal at the Olympic Games in Sydney, if she can repeat the same performance. And this is without a doubt possible.
Bonfire Retires after 2000 Olympics in Sydney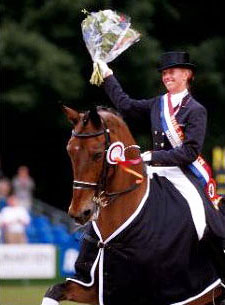 The Oldenburg bred Bonfire, by Welt As out of a Praefectus xx dam, was as frisky and fresh as a bird at the Dutch Championships. But even though his piaffe and passage seems to improve by the years, little marks of old age surface now and then. The gelding always stands stretched when halting with a long rein and his collected trot always has the impression of being a passage. Enough is enough and that's why Anky announced that the 17 year old Bonfire will retire after the Olympic Games. 'Bonnie' will only run three shows in the year 200 and that were the World Cup finals, the Dutch Championships and then the upcoming Olympics in Sydney, September 2000. Her dream is of course to win the gold down under, "and that's what we'll work very hard for," she stated in the press conference.
Coby van Baalen Gets the Silver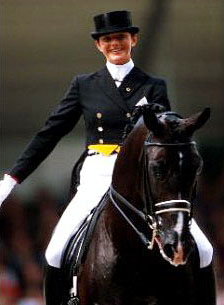 Last year's Dutch Championships winner Arjen Teeuwissen had to fight off the improved couple Coby van Baalen/Olympic Ferro and he didn't succeed. Van Baalen will be a strong contender for an Olympic medal and that's what she showed in Nijmeghen.
The first glimpses of Ferro's current condition were giving at the World Cup Finals where the KWPN stallion by Ulft was really excelling for the first time. In Nijmegen Van Baalen was not far off from Anky in the scores but her freestyle is not as superior as Anky's "Something Old, Something New". Van Baalen riding on a Zorba based composition scored 80,67%, which is 6% behind Van Grunsven. In the Grand Prix and the special, the pair got 76,20% and 74,56%. 
Ferro recently got his first descendant approved for the United States. Owner McCarthy from California will be having "Pyriet" up for stud soon.
Bontje Back in Shape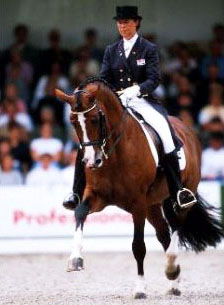 Arjen Teeuwissen, last year's shooting star, is not yet in shape for the Olympics. Although he and his Zebulon gelding Gestion Goliath T are a perfect match in the freestyle (80,67%), lately the pair has more difficulties n the Grand Prix and Special. With 'only' a 71,08% in the first test and a better 75,72% in the second, Teeuwissen easily made the cut for a third place, but has to improve for the Olympics.
Finally back in shape are Ellen Bontje and her Holsteiner stallion Gestion Silvano N (by Silvester). The pair suffered a great set back and was for a long time unable to score higher than 65%, but at the CDI Ebreischdorf in Austria the combination was again on its way for improvement. Yet, the competition wasn't tough in Austria, but in Nijmegen they finally broke through. With scores of 72,04%, 70,88% and 75,49% Bontje not only secured a fourth spot in the championships but is finally certain of her spot in the Dutch Olympic Team. In the Special, however, Silvano behaved a little obnoxious in his test making it Bontje hard to score high.
Gonnelien Rothenberger Feels the Injustice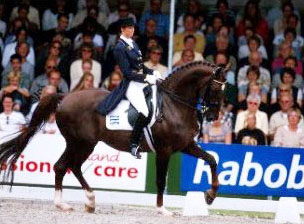 One person who is not at all pleased with the overall standing at the Dutch Dressage Championships is Gonnelien Rothenberger-Gordijn. With scores of 69,76%, 69,81% and 76,39% produced by riding the Hanoverian approved stallion Jonggor's Weyden (by Western Star x Grande) Gonnelien ranked fifth overall. However, she feels that injustice is attached to the official Dutch Olympic Team selection by chef d'equipe Jurgen Koschel. According to Gordijn, the team has already been selected no matter what the scores are.
Rothenberger, who has been scoring in the low 70s at several spring shows, has definitely been scoring higher than Bontje at the beginning of the year. The relation between Rothenberger and Koschel is not so good and fine. "We are no longer talking," Sven said. Sven Rothenberger, who won bronze on Weyden at the 1996 Olympics, is still upset that Koschel didn't pick him for the Dutch team for the 1999 European Championships. 
Koschel claims that the final decision for the Olympic team will be made after the final selection trial in Kootwijk, The Netherlands. Gonnelien Rothenberger will enter the competition, but she sees no use for her to be there. "Ow, I think his decision is already made, but I'll go to Kootwijk. In two weeks I leave for the CHIO Aachen, where O-judges will be judging. I want to know how they value me. I can't enforce an Olympic qualification over there as Bontje won't be riding at the CHIO, but I'm doing this for myself. I want to show them what I can do. For the rest, they have to figure it out themselves," Gonnelien said.
Marlies van Baalen and Thamar Zweistra Rule as Young Riders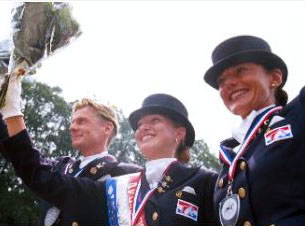 Coinciding with the Dutch Championships for Grand Prix riders in Nijmegen, the junior and young riders were also able to grab the national victory in their class. Marlies van Baalen, daughter of the silver medallist Coby van Baalen, easily rode to victory in the young riders division with the KWPN gelding Habibi (by Ulft x Onyx). Van Baalen ruled in both young riders test with low 70% scores. The silver went to Joyce Heutinck on Berkel's I. Dancer, a very TB like dark bay dressage horse. Third place went surprisingly to Annemiek van der Vorm on Agrovorms Incredible.
Thamar Zweistra, who has been praised and hailed by the Dutch equestrian press as the new young shooting star, often rides tests with her horse too tensed and tight in the neck. In Nijmegen she rode to victory in the junior riders' division. Her horse Hexagons Kyrain (by Cyrain) is her steady partner. Dominique Filion placed second twice in the junior riders tests and won the silver. Filion is riding a loaned horse, Goubergh's Montreal (by Mephistopheles) with whom she's most likely selected for the Dutch junior riders' team. Third place went to Dominique van Aalderen. Young Van Aalderen purchased the Westphalian approved stallion Festivo (by Fruhlingsball) last year at her trainer's barn, Coby van Baalen's stable in Brakel, The Netherlands. In one year time she became the third best junior rider in The Netherlands.
Images copyrighted Arnd Bronkhorst - No reproduction without permission/payment!