Dutch Dressage News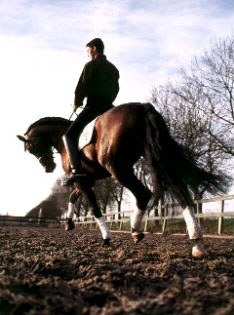 The highly discussed young sport athlete  Krack C has been consigned to Anky van Grunsven for his further competition career. Krack C is the notorious 8 year old bay stallion by Flemmingh out of Gicara II
(x Beaujolais) who continuously made headlines thanks to his quality and high breeding percentage. Under the American Nick Wagman, Krack C became the double consecutive Pavo Cup winner in 1996 and 1997. Known for his flamboyant moving mechanism and his rideability, Krack C impressed many KWPN breeders and became their main choice, placing him in the top ten of most used breeding stallions. Even in the Oldenburger district Krack C flabbergasted and the bay stallion got approved for this German verband.
Anky van Grunsven is very happy with this new deal which offers Krack C to her training programme for several years. Owner and breeder, Stoeterij 't Centrum in Gorinchen, The Netherlands, closed the deal last weekend in April 2000. "I didn't know the stallion and had never seen him run, but his innate rideability is simply impressive,' Sjef Janssen said.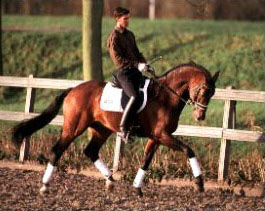 Krack C made a glorious debut under the American Nick Wagman and competed an interesting duel with KWPN stallion Kennedy in the Pavo Cup. According to Dutch equestrian journalist Claartje van Andel Krack C was often the centre of the debate concerning the topic where natural capability ended and "tricked" riding began. With Krack C going to Anky, Nick Wagman made the choice to return to the United States with his boyfriend Gerard Hoogervorst where they both will begin a new life together.
More Dutch news on the KWPN website ( in Dutch) 
Image copyrighted: Arnd Bronkhorst