2000 CDN Mannheim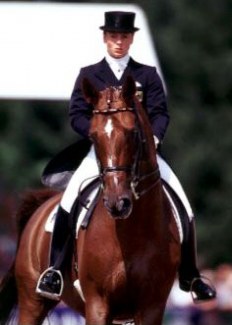 Ruling World, Olympic and European Champion Isabell Werth gave an unusual performance in her Grand Prix test at the Mannheim Market Competition.
 The long awaited come back of her top horse Nissan Gigolo FRH was a difficult one which will be food for new speculation for the critics. The 17 year old Hanoverian Gelding Gigolo refused to enter the arena and gave Werth a hard time. In the extended trot the liver chestnut broke into canter and it took Isabell several meters to restore Gigolo into the correct gait. 71.90% was the outcome of her test which ranked her third. 
It was Nadine Capellmann who was able to take advantage of this score and with her 15 year old Westphalian Gracioso she rode a 75.5% clean test. Heike Kemmer, chief rider of the famous Gestuet Amselhof in Walle, Germany moved into second position on her Argentinus descendant Albano and hitherto enlarges her chance to became a member of the German Olympic dressage team. 
Werth was still happy after her failed ride. "Time and time again Gigolo tricks me like that. It shows that he's not part of the oldies club. I prefer him being frisky at the beginning of the season than at the end," she commented.
Picture copyrighted by Arnd Bronkhorst