2000 CDI Palm Beach Dressage Derby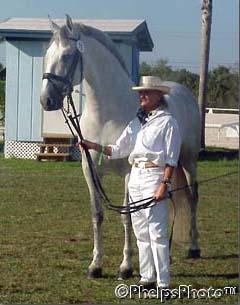 Thursday 2nd March 2000: Show Heating Up Along With Temperature 
On Sunday evening 27th February 2000 I flew in from Amsterdam to Florida, arranged to get picked up by young rider Kate Poulin. She gave me a ride to Deleon Springs, Mary's home town.
 I had been excited for two months, anxiously waiting for this day to come; the day on which I would see Mary again. Of course I brought a load of coffee and Belgian chocolates because I know Mary and JJ simply love them. The first three days were spent working in Mary's home sorting and numbering pictures. One day we went to Daytona Beach driving on the shore passing a mile of the most perfect ocean you can image. Mary and I lined up for a  nice cosy picture; the Junior Riders/ Dressagedaily team back together. We ate in an Outback restaurant and I was advised to select the Queen Victoria steak from the menu ,which turne out to be simply great! On Wednesday we mainly mellowed out in front of the tv because everything was set for a departure to the McPhail equestrian center, which hosts the Derby this year. 
However, I thought we were set. On the morning of Thursday 2nd March there were some problems when loading the truck. Mary seemed quite confused about what she wanted to take with her and which gear had to be brought by Dell Goodwell, one of the camera handlers. In a pensive mood, thinking of a million things which had to be done, she forget some important phone numbers so we had to drive back once. The trip to the premises in Palm Beach, Florida, took 3 hours and a half, only stopping for a short grab to eat. After our arrival on the show grounds, I helped JJ set up the display while Mary was mentally preparing herself for her shoot of the vet inspection, which started at 3 P.M. JJ went out to get us some liquids for tomorrow and I especially ordered Mountain Dew, a drink which is not for sale in Belgium.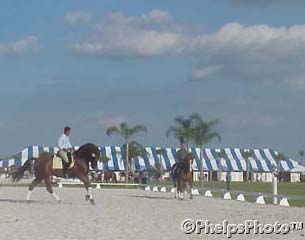 The jog was so fun, mainly because I got to see so many faces again which I haven't seen since two years ago at the 1998 North American Young Riders Championships in Denver, Colorado. I was of course especially pleased with my new encounter with Nicho Meredith, the official announcer of the show. He is such an interesting person and has the warmest heart and gentle soul. I got introduced to many new riders and I had an interesting chat with Robert Dover about his new horse Ranier.
After the jog, Mary and I ordered a great dinner at the boot right across Mary's camper. Run by two crazy but very enthusiastic and inspired ladies, the owners prepared us a great meal of grilled shrimps and risotto. After dinner I grabbed Mary's camera, going out to the warm up ring in an attempt to capture some nice shots during Magic Hour. I can never predict how the prints will turn out to be as I am still an amateur. Round 8 P.M we loaded up, in order to turn in early so that we could rise and shine tomorrow for an extremely busy first day at the show.
I chose this title as the first one in a series of daily reports because I read the sentence in a funny article by Mary Phelps on her site dressagedaily.com. The weather in Deleon Springs was cool, spring weather, but the one in Palm Beach was considerably hotter so I had to change clothes like three times. I was worth it because I was cooking in my European winter ensemble.
Friday 3rd March 2000: Blood, Sweat and No Tears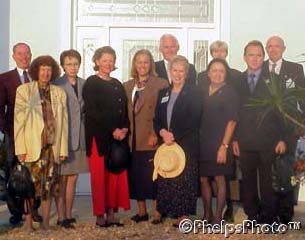 First day kicked off with top dressage competition in four rings, which were all to be covered by the Phelps Photo video team. For one day Mary had to jump in to handle the video recorder instead of doing the photography, but in the end she was very well pleased with her job and actually referred to it as more easy than walking around all day having a heavy camera to carry. My task for the day was function as carrier of the tapes and taking in orders. Luckily I had a golf cart at my disposal, which made the job much easier. I drove from one ring to another delivering and picking up tapes, making sure that they were all kept organized.
The day was long and the whole team, consisting of Mary, JJ, Dell Greenwell and Lu Spinks had to work hard. Lu covered the CDI part in arena 1 all day and with a replacement of a replacement in her hip that lady is still alive and kicking, doing a lovely job. I met Nicho Meredith again and took some nice images from his fort, which is located under the roof of the show office building. I was also asked to do my first photography shoot of an award ceremony. It was exciting of course but I'll doubt the quality of the shots, until I have actually seen the proofs. After a long day of work we went to Boonie's where I had a plate of pork tenderloin for supper. I was quite exhausted  when I went to bed. Although I woke up round 3 AM in the morning I had a better sleep than the night before as a group of mosquitoes then terrorized me and left me covered with a million red, itching, bloody bumps.
Sunday 5th March 2000: Robert Dover "Goose Bumping" with Rainier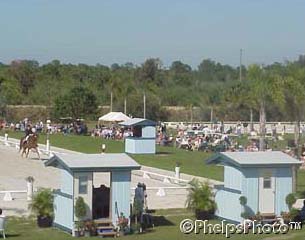 Slept at Ingrid Pollack's place, a most divine residence at White Fences with stables and nickering horses right on her court yard. The show schedule wasn't as tight as yesterday but there was still much work to be done. The main ring, arena 1, featured freestyles all day varying from the international intermediaire I kur, to the AHSA open Grand Prix freestyle, to the World Cup qualifying one. The weather heated up quite well today and my body felt drained from the past few days. Walking with blisters all day, the job wasn't any easier. Nevertheless, I had a great time. Mainly holding up the fort at the camper to collect invoices for tapes, I had little time to watch the tests. 
However, for certain riders I snuck away to see one of the rides, namely Robert Dover's freestyle with Rainier. I saw him compete with Everest in the Speciale, a decent test but with many tiny errors. Although the 9 year old Rainier, and yes it's spelled Rainier, is very inexperienced he still possesses a great moving mechanism, excelling in his piaffe and passage work which was therefore highlighted in his freestyle. Especially the last reprise, a a passage on the centerline, piaffe in a circle at X and then a passage to G, made the crowds faint and get goose bumps all over their bodies. Carrie Schopf's elegance is unbeatable, but her classical music could have been more tuned into the horse's movements. While the passage and piaffe matched the beat, the trot work and canter didn't give such rhythmic kick. Interviewed Robert Dover and that attracted a crowd of listeners. Tina Konyot was highly fascinated by our questions but needed more time to come up with an answer.. We'll hear from her again..
Packed up, brought some genuine Belgian chocolate to the ladies (DocLilly) of the dining boot, went to Ingrid's place again and than grabbed dinner at Boonies. Last show day, last day of dreaming, last day.....
Images by Astrid Appels and copyrighted for Phelps Photo