2000 KWPN Stallion Licensing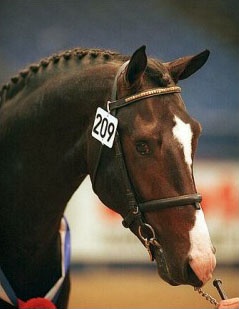 Champion of the 2000 Stallion Licensing was Paddo, a dark bay Ferro x Darwin descendant bred by Tinus van Baalen and owned by Evert Werkman and stable "De Nieuwe Heuvel" in Lunteren. Werkman purchased Paddo as a weanling
for a reasonable amount of money at the Van Manen brothers, (who distribute Ferro semen ). "I'm sure that now they'll regret the sale," Werkman said. 
As a yearling Paddo was weak in the back but it strengthened by playing with a dog. "Paddo is crazy about our dog and he plays with him in the fields." The Ferro descendants on the licensing day showed a long and impulsionless hind leg. However, Paddo was the one with power from behind and he was conformation-wise allright. Hopefully the champion's laurel won't bring misfortune to the winner, a phenomenon that regularly happened in the past.
Reserve Champion of the 200 grading was Patrick, an absolutely divine Kennedy x Kaiserstern xx x Volckmar. The youngish looking Patrick excelled in his three basic gaits which displayed suppleness, tact and impulsion. The modern looking Patrick is sired by Kennedy, the double NHS/KWPN Stallion competition winner.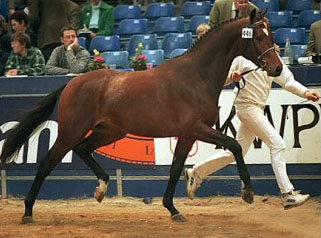 Several import stallions participated in the grading days in order to receive their KWPN breed permission. Amongst them was Roman Nature, a Rhinelander Rohdiamant son who won the German Federal Championships as a three year old. It was especially the Donnerhall offspring that did well in 's Hertogenbosch. Owned by Sven Rothenberger's father-in-law Adrie Gordijn, the dapple grey B-day (by D-Day) was transferred to the third round. The best impression came from Drakkar (by Donnerhall x Wendepunkt). Although this white stallion ran on the forehand on Thursday, on Friday he shaped up considerably and trotted with print and impulsion. Drakkar is owned by the Belgian Frank van Dijck from Lier.
The 2000 KWPN stallion collection was a good one, showing modern sport horses with decent basic gaits and lovely conformations. The 70-day stallion test, however, will show if these youngsters as true performing equines with quality and perseverance.
Go back to the first page of the 2000 KWPN Stallion Keuring Report
Images copyrighted Dirk Caremans - no reproduction without permission/payment