1999 CDI-W Berlin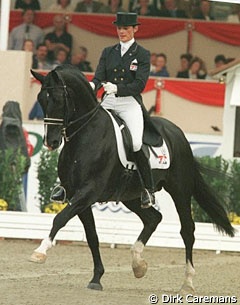 What a dazzling reappearance did Olympic Ferro make under Dutch Dressage Team Member Coby van Baalen. After his international debut at the 1998 World Equestrian Games in Rome, the KWPN approved sire by Ulft x Farn landed in a low tide period
in which he hardly showed any level.
However, this dip seems to be over as Coby van Baalen scored 72.04% in the preliminary Short Grand Prix (4th) at the first World Cup Qualifier of the 1999-2000 season in the Western European League. It was very strange that the panel of judges did not get any consensus over the performances of the riders. German Ulla Salzgeber scored high notes but 
received various rankings (), which lead to a win for World Champion Isabell Werth and her Hanoverian/Trakehner cross Nissan Anthony FRH who was the only one that scored consistent marks. 
Highly dominant was Coby van Baalen in the final kur to music. Van Baalen's freestyle, a Yellow Submarine based composition, dominated the international competition in Berlin, Germany, and showed the audience a top quality prime time performance. With 79.21% the Dutch professional rider took the lead but she had German Ulla Salzgeber following  her closely with 79.00%. Salzgeber rode her first mount Rusty, a Russian bred gelding  who is considered to be the best competing dressage horse on the globe. Werth and Anthony came in third. 
With this victory Van Baalen is currently ranked second in the provisional World Cup Standing, behind the German Ramon Dreyer who already gathered a nice collection of points by competing in the Eastern European League.
Image copyrighted Dirk Caremans: No reproduction without permission/payment