1999 Belgian Young Dressage Horse Championships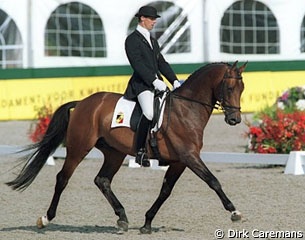 The 1999 Young Dressage Horse Show Circuit or better known as "Cyclus der Jonge Dressuurpaarden" has come to an end. After five qualification shows which took place in Duffel, Dendermonde, Kasterlee, Zwijnaarde and Moorsele, 26 horses were selected to run the finals.
These took place in Stable 'T Overdijk in Moerzeke, a facility which possesses two covered arenas so that the youngster were able to warm up in all quietness. The judges panel consisted of the two Belgians Jean van Daele and Freddy Leyman and guest judge Klaus Balkenhol. The German Dressage Team Coach gave the overall comment on rider and horse after each dressage test, a judgement technique also used at the German Bundeschampionate and World Championships for Young Dressage Horses. 
In the four year old division Mario van Orshaegen and Sentio van het Goorhof took the lead leaving 2nd placed Stefan van Ingelgem with his Doncaster far behind him. Van Orshaegen won the first qualifier in Duffel with 63.75% and maintained a top five position throughout the selection shows. In Moerzeke the dark bay Belgian Warmblood  stallion by Coriolan out of Phitia van het Goorhof. was the absolute best 4 year old. Scoring 77% Van Orshaegen claimed victory. Second placed was Stefan van Ingelgem with Doncaster. While the Donnerhall son did not excel in Moorsele as he regularly spooked, in Moerzeke, however, Doncaster gathered a 72.00%. Ingrid Daeleman took the Hanoverian Acapulco (Argument x Anthea) to a 70.40% settling on a third spot.
In the most interesting class, the five year olds, it was Rockefeller van de Zelm who won the circuit. Rockefeller, a  finalist at the World Championships in Arnhem, is sired by the Westphalian Rosenkavalier out of Hinde. Van Ingelgem, a professional dressage rider from Puurs, won the finals with 75.19%. The extremely talented Rosantica became reserve champion with only 3 points difference (200 points - 74.07%). Rosantica can be considered as the revelation of the year. The gorgeous chestnut mare by Camus out of Le Madeleine xx possesses three quality basic gaits and although she regularly gets hot the mare 
seems very rideable. Geert van der Borght presented her in a very accomplished manner just like he did with the Belgian warmblood mare Pucchina van het Kiekenhof at the Belgian  Championships in Gesves. The Oldenburger mare Fatima L (by Feinbrand) gained much experience this show season and in the finals the Vechta Auction Horse placed third under Ingrid Daeleman. Fatima L is a typey ladies horse with three fine gaits but she could shows more suspension and impulsion from the hindquarters.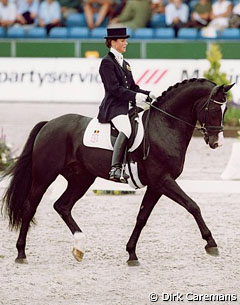 Only six combinations started off in the six year old class. Only six horses actually entered this age class this year, which clearly indicates that the flying changes create an important obstacle for either rider or horse. Routinier Vicky Smits rode the approved BelgianWarmblood Quavarotti van de Helle to a first position. Quavarotti (by Pavarotti van de Helle) is a very talented stallion but has been often remarked about his lack of power from behind, but young rider Vicky Smits is able to highlight Quavarotti's other qualities and therefore became Belgium's best combination among the six year olds. Balkenhol, Leyman and Van Daele gave the pair a 71.88%. Koen Verdegem placed second with Quattro van het Voortsveld. Bred by Mark Gijbels, Belgium's six time LRV Group Dressage Champion with his De Vrije Teugel - Vorst Dressage Team, Quattro is by Weltmeyer out of Gitte. Koen Verdegem received a 71.56% total. The bay beauty Lavador (by Nimmerdor) placed third under Wim Verwimp. Lavador scored 71.25%
With a large crowd on the scene the Finals of the Belgian Young Dressage Horse Circuit were a big success. Native Belgian and Olympic judge Mariette Withages ended the day with a clinic on how to create a freestyle. Withages illustrated the preparation and assembling of a kur assisted by Japanese judge Minako Furuoka who rode her own horse.
Images copyrighted  
Dirk Caremans (Rockefeller and Quavarotti)