1999 Bundeschampionate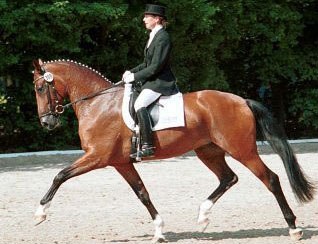 FBW Lettina and Nicole Casper Almost Beat Sandro Hit
Almost beating World Young Dressage Horse Champion Sandro Hit, FBW Lettina became Reserve Champion in the six year old Dressage Horse Class at the 1999 Bundeschampionate in Warendorf.
This high potential mare won both qualifiers under steady rider Nicole Casper placing a notable score of 9.0 on the score board. In the finals Nicole and Lettina had to bow for black pearl Sandro Hit who danced to a 9.5 victory mark, while Lettina received 9.2.
Bred by Wolfgang Bulling from Boehmenkirch, Germany, FBW Lettina is sired by Lanthano out of a Weltstreit daughter. Proven to be an excellent competition mare, Lettina easily qualified for the 1999 Bundeschampionate by becoming the "Trager des Schwarz Goldenen Bandes 99" in her breed area Baden Wuerttemberg. With this last achievements and various other victories at national shows Lettina was contracted by the "Forderverein des Leistungssports mit Baden Wuerttembergischen Pferde", or simply FBW. FBW is a society of Baden Wuerttemberger enthusiasts which sponsor the best showing horses of their breed.
Owned by Gestut Birkhof in Donzdorf near Stuttgart, FBW Lettina is stationed at the stallion centre of her sire Lanthano (Hanoverian by Lanthan - Lombard). Gestut Birkhof is run by the newly wed couple Thomas and Nicole Casper. It was Nicole who rode the talented mare to the reserve champion title in Warendorf, leaving established champions like Del Piero and Cordoba behind her.
Wildest Dream and Holga Finken Win 3-year old Division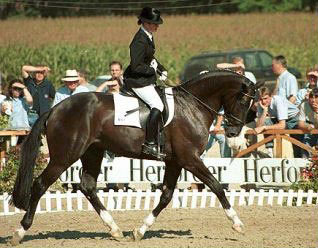 Winner of the three year old mare and gelding class was Wildest Dream. Ridden by the notable Holga Finken, Wildest Dream was not able to enter the top five in the first selection test. With an 8.0 score the pair was destined to place 7th, yet the total sufficed to qualify for the finals in which Finken rode his black gelding to an advantageous lead position. Three combinations, Wildest Dream, Ramina K and Diamond Dream, were pointed out for the ultimate finals in which two different riders mount the three horses and test them on their qualities. Ellen Schulten Baumer and Paul Schmidt were this year's guest riders. Schmidt was not afraid to push each horse and to see what potential they had in store. Schulten Baumer on the other hand rode with rather long reins and showed safe, modest rides. Finken maintained the advance he built up in his prior tests. The gelding showed three solid basic gaits and excelled in his canter for which Wildest Dream received an 8.6 mark. Both guest rider honored the Hanoverian with a 9.5 final score which gave him an overall total of  61.49.
Bred by Heinrich Criegee from Schüttorf, Germany, Wildest Dream is sired by Wolkenstein II out of a Castro dam. While the black gelding is ridden by Holga Finken, who already takes champion mare Wahajama under his wings, Wildest Dream is owned by Margrit Keller from Bremen.
Pilgrim's Red and Ines Westendarp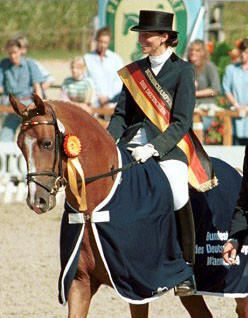 Building up a small point difference with first placed Branduardi M in the qualifying round of the 1999 Bundeschampionate for 3 year old Dressage Pony Stallions, Pilgrim's Red destiny was determined by guest riders Hella Kuntz and Jana Freund. Hella Kuntz, a steady rider of the Westphalian Auction Team and participant in the Championships herself with the Westphalian Florestan I descendant Ferryman, decided to give the Weser Ems bred stallion the lead. "He has a little more spice in his body than Branduardi M," she said. Second guest rider and talented pony rider herself, Jana Freund, gave a total of 9.0 to Pilgrim's Red. The stallion's overall score was 58.65, which resulted in his coronation with the championship's laurel. Pilgrim's rider Ines Westendarp also won the 3 year old pony mare and gelding class with the high potential Dornick B son Di Baggio.
Ines Westendarp qualified Pilgrim's Red for the Championships by strikingly winning his age class at the Weser Ems Reitpony Championships at the Castle Park in Rastede, Oldenburg, in July. The chestnut is sired by Principal Boy out of a Black Boy dam. Breeder and owner Heike Timmerman from Wardenburg offered her pony to Ines Westendarp at the beginning of the 1999 show season. 
Related Links
Wahajama and Sandro Hit Win 1999 Bundeschampionate
Scores 1999 Bundeschampionate