1999 European Junior Riders Championships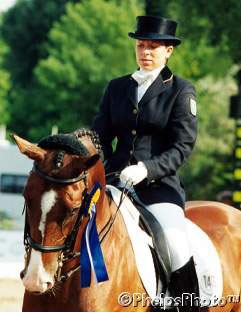 Nicole Giesen and Slow Fox V
Born on the same day as Julia-Katharina von Platen, 18 year old Nicola Giesen does not aspire a professional riding career
like birthday partner Von Platen; Nicole still has to finish her final highschool examinations in 2000. Yet, besides making her homework for school Nicole spends her days with intensive horse training, which is clearly reflected in her achievements. 
In 1998 she became reserve junior rider champion of the Rhine are, sixth in the German Junior Riders' Championships and later on won the 1999 Rhinelander state championships. At the last 1999 Junior Riders' qualifier in Bad Honnef, she twice settled herself in third position with the nine year old Dutch bred Slow Fox V. This excellent performance made chef d'equipe Holger Schmezer decide to form this year's German Junior Riders' Team with Giesen as member. This was a wise decision, as Nicole and Slow Fox became the individual champions at the 1999 European Junior Rider Championships in Austria. Giesen considers her trianer Heiner Schiergen as a true example, together with Isabell Werth.
Julia-Katharina von Platen and Mocca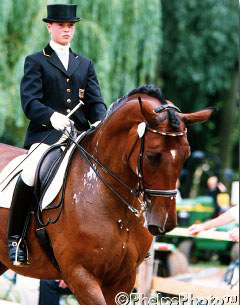 Born in the capital of the Hanoverian breeding area, Celle, 18 year old Julia-Katharina von Platen missed her last chance to win individual gold at the 1999 European Junior Rider Championships. Considered to be the favorite for the individual lead in Achleiten, Austria, she started to clear her way to the path of gold by defeating all competition at the last Junior Riders' qualifier in Bad Honnef. With scores of 66.83% and 68.63% her absolutely gorgeous mount Mocca, a 10 year old Hanoverian by Merlino out of a Wittelsbach dam, shimmered like a diamond in the rough. 
Mocca had been a rising star from early age. In 1994 the young Hanoverian gathered experience at the Bundeschampionate where he became Reserve Champion of the 5 year olds under Julia's father Ute von Platen. One year later Julia became 9th with the bay at the 1995 Bundeschampionate scoring a decent 8.20.
Julia-Katharina von Platen got acquainted with riding at early age. With three different ponies she was placed in the B-frame of the German Pony Team and in 1995 she won the German Championships with Dean in the 5 and 6 year old dressage pony division. Her first "big" horse was Welfenprinz with whom she became double German Junior Rider Champion. At various competitions she settled herself in the top five at Prix St. Georges-Intermediaire I level with this Welstphalian by Weinberg . In 1998 she claimed the Reserve European Junior Rider Champion title at Hickstead, England.
This year she combined with reserve horse Mocca and became 5th in the Preis der Besten. For one year now the 18 year old is following courses in the National Training Center of the German Olympic Committee in Warendorf to become a professional dressage rider. Mocca injured himself one week before departing to the European Championships in Achleiten. Von Platen had to pull back and Desiree Schurf filled in the open spot with Maldini. 
Desiree Schurf and Maldini
An opening in the German Junior Riders' Team originated for Desiree Schurf when Julia Katharina von Platen had to pull back due to an injured Mocca. The 17 year old from Bedburg, Germany, easily made the change from ponies to horsies in one year time. While she was still part of the golden team with FEI dressage pony Dressman I at the European Pony Championships in Le Touquet in 1998, this year Schurf scrolled over the Junior Rider qualifiers making good results. At the last German JR selection show in Bad Honnef, Schurf placed sixth with her chestnut gelding Maldini. Scores of 64.17% and 64.05% sufficed to become the reserve rider of the team.
With Mocca's unfortunate injury Desiree's opportunity to participate in the EUJRC came into existance. Chef d'Equipe Holger Schmezer did no wrong by taking Schurf to Austria as the 17 year old unfurled herself as 5th best Junior Rider in Europe, setting marks between 69.40% and 72.33%
Jan Andreas Viebrock and Astolfi
While three members of the 1999 German Junior Riders Team already gathered Euro-experience, Jan Andreas Viebrock now gets his first chance to collect that at the 1999 European Championships near the Achleiten Castle in Austria. The student of Hartwig Burfeind, the German Trakehner Auction organizer, picked up a riding career at age 7. His first big successes were made with La Boom with whom he became Reserve state champion in 1998. It was Astolfi, a 15 year old gelding bred by the Marbach Landgestut, who gave him to opportunity to get excell at big national competitions. Not only did he became state champion, but he also placed third in the Preis der Besten in Warendorf.
With the 9 year old Hanoverian Wyoming Jan Andreas has a top quality reserve horse at his disposal. At the Bad Honnef selection show Wyoming scored 64.56% in the Team championship test and placed fourth. in Bad Honnef Astolfi set for fourth position in the Individual test gathering a 64.53%
Nikolas Kroncke and Larso 
Youngest combination and "shooting star" among the German Junior Riders is 16 year old Nikolas Kroncke. His younger sister Kira Kroncke, who became double gold medallist at the 1999 European Pony Championships, inspired him to take up riding. In 1992 Nikolas received his first pony Black Boy as a gift, even though he more enjoyed playing tennis. His sister constantly assisted him in the barn of the Kroncke family and eventually he learnt that riding was more fun than tennis. Ponies Aventino, Edwin and Konrad quickly followed career-starter Black Boy. In 1997 Nikolas was the undefeated champion in pony dressage with the lovely chestnut gelding Konrad: winner of the Preis der Besten in Warendorf, double gold medallist at the European Pony Championships and German Pony Champion. In 1998 he became German Junior Rider Champion with Mont Royal. 
Trained by Jonny Hilberath, Nikolas is again excelling in the Preis der Besten-qualifiers, but this time with the Holsteiner stallion Larso. At the last JR selection show in Bad Honnef, Kroncke and Larso only had to make way for Von Platen and Mocca, but still scored 66.78% and 67.16%. 
Photos copyrighted Mary Phelps - http://horsesdaily.com
Related Links
Scores: 1999 European Junior Riders Championships