American Dressage News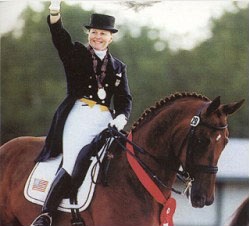 The United States Equestrian Team (USET) has named Debbie McDonald of Hailey, Idaho as USET Athlete of the Month for July. McDonald won the award after winning the individual Gold Medal in the equestrian dressage competition at the Pan American Games in Winnipeg, Canada.
Her performances also gave the USET its first double Gold Medalist in the Pan American Games since 1983.
McDonald, 44, led the USET to the team Gold Medal on Monday, finishing first in the Prix St. Georges competition. She then rode Brentina, the 8-year-old, Hanoverian mare owned by Peggy Thomas, to first place in Tuesday's Intermediaire I. Her two scores in those rounds combined with her 75.12% in Thursday's freestyle to make her the USET's first Pan Am individual Gold Medalist since Carol Grant in Dressage and Anne Kursinski in show jumping in 1983. 
McDonald, who placed second in Thursday's freestyle behind Shannon Oldham Dueck of Canada, won the Gold by an overwhelming 7.48%. Dueck, who scored 75.34% on Korona in the freestyle, won the Silver Medal with a combined score of 216.30% and Bernadette Pujals of Mexico was third on Rossini with a score of 216.23%. 
"This is just incredible," said McDonald. "I'm pinching myself to see if it's real. Brentina is young and while I had hopes that we might make the team and get here, I never expected this. I was so nervous today that I think I held my breath the whole ride. I was expecting her to be tired, but she had so much energy that I overrode her at first. I was able to adjust and she did her job. I'm so proud of her." 
Image copyrighted by Mary Phelps