German Dressage News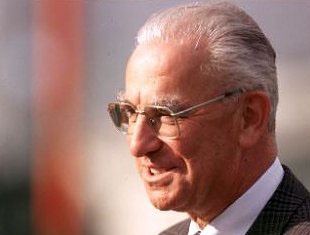 Germany has lost one of its most successful sports persons, Tuesday August 17, 1999. Reiner Klimke died in the clinic of his hometown Munster at age 63 as a result of a heart attack.
The Klimke family announced the death of the world's most successful dressage rider through the German Equestrian Federation. In his career Klimke participated in six Olympic Games and captured six gold and two bronze medals. A collection, which up until now, no German sportsman has ever garnered.
The advocate from Munster suffered a heart attack on his way to court in Bonn on 6th August 1999. He was immediately admitted into the hospital in Haltern, and only last week he was transported from Haltern to Munster where he would continue his treatment. His death was a big surprise, as he seemed to be on the road of recovery and as he had already conversed with his family.
Klimke is the second well-known dressage rider who has died in two weeks. On August 4, 
1999, former Olympic Champion Liselott Rheinberger, who became famous under her first husband's name Linsenhoff, died at age 72 after a long period of illness.
"His passion and eagerness for equestrian sport was indescribable," said German chef d'equipe Klaus Balkenhol. "He was an example, a real horseman in bone and marrow, always fair towards other riders and his horses. He was a man who still could have been riding for 20, no 25 years." President of the National Olympic Committee (NOK), Walter Troger, comments," This is a bitter loss for the Equestrian and Olympic sport. I have known him since 1963 and he was a good
friend. He will be deeply missed by the Committee."
Klimke rode dressage for four decades, even though he didn't always concentrate on that discipline. This is shown by his successes in three-day eventing as he became German Eventing Champion in 1960 and European Eventing Champion in 1959. He participated in the 1960 Olympic Games of Rome as an eventing rider and with his 18th individual place he was the best German combination. A victory in a Grand Prix Show Jumping course in the Berlin Deutschlandhalle proved that he was a true Renaissance man in the equestrian sport.
Of course with his achievements certain horses are combined. With Dux, Mehmed or Ahlerich he collected, not only in the Olympic Games but also at World and European Championships, uncountable victories and medals. His most famous horse was Ahlerich, a Westphalian gelding, 
with whom Klimke won the individual and team Olympic Gold medal at the 1984 Olympic Games in Los Angeles. In 1988 he once again conquered the team gold with the German Dressage Team in Seoul. In 1992 Ahlerich died at age 22 from colic.
Klimke was not only a versatile man in the saddle. In sport associations and in politics, Klimke, born in Munster and proclaimed as honorary citizen in 1986, played an important role. In 1985 he became member of the NOK, in 1992 he was press-commentator for the German Team and 
since 1998 he was part of the Dressage Committee of the International Equestrian Federation (FEI). On August 1 of this year, he decided to preside as the "Former Olympic Participants Society".
In numerous national and international associations he did not always make friends because of his consistent and often strict way of thinking. Two of his membership application were rejected: one for the International Olympic Committee (IOC) and one renewal as CDU (Christian Democratic Union (German political party)) representative for the Nordrhein Westfalen Landtag, of which he was part from 1990 till 1995. He refused the proposal to become chairman of the German Equestrian Federation. He told that "others retire when they are 60 years old, so why shouldn't I?"
But an equestrian retirement was not all part of Klimke's life. He kept on surprising audience and fellow riders by presenting new young horses at various competitions. When he showed the talented and much discussed Trakehner Biotop (by Blesk) for the first time in 1993, Klimke mentioned that he was not at all on his way to an equestrian step-down. His dream goal to participate in the 1996 Olympic Games was never accomplished. Even when Biotop switched competition for a breeding career in 1998, the 62-year-old Klimke made clear that this was not the end of his career.
With great passion the son of a psychologist and neurologist continued to pursue success. His will had no boundaries. 
Even though Klimke was cloaked in pride, he loved to pass on his knowledge. He was active in
the promotion of youth riders and after the unification of West and East Germany he stimulated young dressage riders from the East to compete in the West. Hitherto he wrote numerous books about the training of horses and he worked as an author of books about the Olympic Games.
He spread his interest in riding among his family. His wife Ruth was his "critic and assistant in one", as he once said. The eldest son Rolf was the constant companion and assistant to his father, managing and coordinating the family businesses. Meanwhile daughter Ingrid Klimke is considered as one of the best German eventing and dressage riders. On Sunday August 15, 1999, she 
showed her father's horse Biotop at the Riesenbeck competition in which she won two dressage tests. Klimke's youngest son Michael is part of the elite dressage riders in Germany for a long time. Recently Dr. Klimke attended the 1999 Aachen CHIO Dressage competition to help coach Michael to a victory in the Grand Prix on his latest mount White Foot.
Translated by Astrid Appels
Image copyrighted Arnd Bronkhorst
from Sport im Deutschen Internet