German Dressage News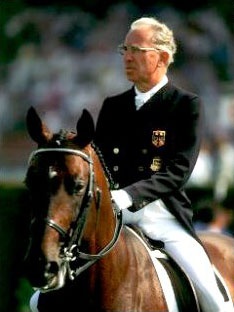 Dressage legend Dr. Reiner Klimke suffered a serious heart attack on August 6 while traveling by train from his hometown of Munster, Germany to take part in a legal proceeding in Bonn.
The most successful Olympic equestrian of the century is in intensive care but is resting comfortably and conversing with family and doctors.  The prognosis for the 63-year-old attorney and dressage great is not yet known as he is undergoing a battery of tests to determine the cause and severity of the attack.
Under the circumstances, plans for the Dr. Reiner Klimke Symposium scheduled for April 28 – 30, 2000 in West Springfield, MA have been put on hold until October 1. 
For those who would like to send get well wishes to Dr. Klimke, you can do so by e-mail at info@klimke.com or by writing to him c/o The Sporting Scene, 4002 Portsmouth Street, Houston, TX 77027.   For the latest on his recovery visit the Event Updates section of his web site at www.klimke.com.
Image Copyrighted Arnd Bronkhorst - No reproduction without permission/payment