1999 European Dressage Championships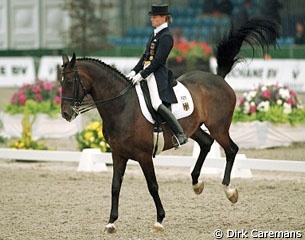 Isabell Werth's Anthony FRH did not start in the final kur to music of the European Championships. Her horse showed the same features of the influenza Chacomo had on Thursday.
Because of the temperature rise the Hanoverian gelding of Isabell was pulled out of the competition. 
Chacomo leaves Arnheim
Chacomo has left the competition grounds of Arnhem, The Netherlands, because his blood tests showed that the bay Holsteiner has an infection. Despite Alexandra Simons' wonderful performance in the Grand Prix yesterday (which resulted into the gold team medal for Germany) she decided to pull her horse out of the competition to prevent further development of this infection. The other german combinations striving for the individual medal are Isabell Werth with Anthony FRH, Nadine Cappelmann with Gracioso and Ulla Salzgeber with Rusty. Holland ended second in the team competition after a disappointing (read: not as good as Holland hoped for) 
performance of Coby van Baalen (riding Olympic Ferro) and Ellen Bontje (Silvano).