1999 World Championships for Young Dressage Horses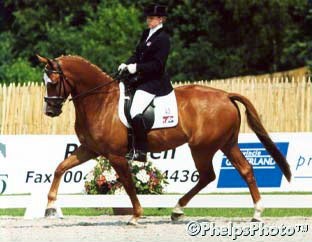 The second group of the five year old class showed only a small group of top potential dressage horses while the largest mass consisted of "good" average horses.
Highlight and winner of the test and 5 year old class was the KWPN chestnut gelding Roval Investment (by Investment). A horse with a lovely knee action, much shoulder freedom and a great hindquarter. Dutch Birgit van der Eyken was able to steer her horse through an almost perfect test and she showed each quality of the horse. The judges complimented her for bringing out a swinging, active trot which was the best of the whole group. Smooth transitions and an uphill canter benefitted in the high score of 9.4.
Second place went to the German bred KWPN Mister Mastwijk (sired by the Hanoverian Davignon). Rider Sjoukje van Kooten presented a horse which was natural on the bit, well overtracking in his walk and balanced in his canter. Some extra activity from behind would have made his score, 8.9, go up.
Dr Ulf Moller tied with Sjoukje. He rode the Westfalian Festrausch by Florestan. The black impressed with his rhythmic trot and his excellent rein back.
Nicole Uphoff brought the Oldenburger Regal Dance (by Rubinstein) with her. The gorgeous bay gave a green impression but possesses great quality and potential. He especially knew to fascinate the judges with his uphill canter but the youngster had to be more "durchlassig" in the mouth.