1999 European Dressage Championships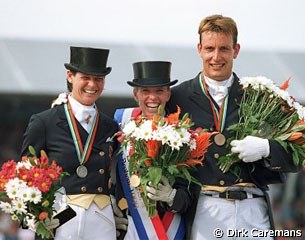 It has always been one of Anky's dream, to win the European Championships, and  today her wish came into fullfilment. An 85% in the freestyle gave her the ticket to victory. Bonfire showed a solid nicely composed kur and some good piaffe passage reprises.
Ulla Salzgeber came in second with her Russian Rusty. The dramatic music and excellent extended trot, flying changes and pirouettes gave her a high score of 81%.
Dutch Arjen Theeuwissen came in third. His kur was OK, but the music with the castagnettes was rather classic. Goliath (by Zebulon) possesses a solid, balanced piaffe and a superb trot but his neck didn't stretch enough in the extended walk.
Nadine Cappelmann and Gracioso placed fourth. Isabell Werth didn't not compete Anthony FRH because he had a temperature rise, just like Chacomo three days ago.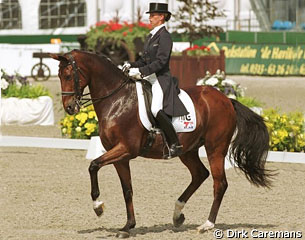 BCM chairman Joep Bartels opened the official press conference. Anky's very happy with her medal, and she's pleased with Bonfire's performance. Even though he's 16 year old, he keeps improving and established two new world records this weekend. I can't predict the future so I'll wait and see. Only if he's fit I will continue to show him.I can't describe what Bonfire means to me. It doesn't matter whether I win or not. Bonfire has the best personality and he always wants more."
Ulla is not used being the best German rider. Her impression of this championships was that the performances were very good in Arnhem. The Germans were afraid to show in Holland because of Anky and her benefit of being in her native country. "Everybody got the applause he deserved and that was great about the show."
Goliath started at Grand Prix level ten months ago. Two weeks ago he won the Dutch dressage championships. Arjen didn't have any specific aspirations except keeping his horse fit. He was pleased with his three rides and is planning to give Goliath a two-month break.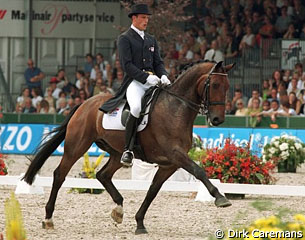 Judge Eric Lette commented," By looking at the scores the judges gave today you can clearly see our opinion. We saw more good riders than ever and many horses are going to the top, which's good for the sport." To the question where the end of scores will be, Lette replied, "our sport is more complex, it's one rider and one horse. There were some tens given today. Anky got a 10 on a transition, Ulla got 10s for her tempi's while Arjen received one for an extension." 
Coby van Baalen placed sixth in the Special but she was not selected for the Kur because only three riders may represent a country in the freestyle. Lette commented, "we want to have the elite in the finals and we also want to bring a balance in it; that means entering riders from other nations as well. To improve as a rider, you have the be one of the best three of the team."
On the question how much money each spent on their freestyle? 
Anky: a lot but it's worth it 
Ulla: as much as it needs 
Arjen: we didn't pay for it yet
Anky felt sorry for Isabell as she has had so much bad luck this year. "It would have been fun if I had beaten Isabell But I know that Bonfire was the best."