1999 World Championships for Young Dressage Horses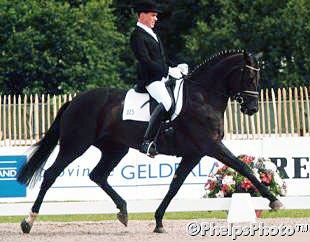 Under a cloudy sky the second qualifying competition of the World Championships for Young Horses started off this morning at 10 a.m. Group I, which presented a large collection of quality 5 year old dressage horses, was dominated by the black Hanoverian mare Wahajama (by Warkant x Acapulco).
Sold in 1998 at the 98th Elite Auction in Verden, Germany, for 510.000 DM, this gorgeous looking and moving black pays off her price. Judges Christoph Hess (GER), Brigitta Bergsten (SWE) and Els Mouw (NED) complimented German rider Holga Finken on presenting the mare so beautifully. The combination showed great improvement since yesterday; Wahajama stretched her neck more and performed smooth transitions. Even though she was a little tensed in the beginning, she bent well throughout the test. Wahajama received a score of 9.1 and definitely outrun runner-up Ictenos.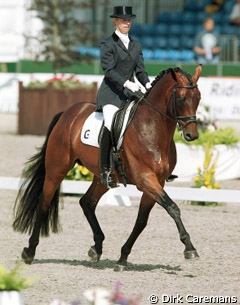 The lovely Trakehner stallion gave a "greener" impression than the Hanoverian, but rider Anky van Grunsven pushed the elegant bay into an uphill canter that was featured by much shoulder freedom. In the extended trots Ictenos (Sir Chamberlain x Marlon) was uneven for several paces but that improved at the end of each diagonal. The judges described the Trakehner as one of the highlights of the group because of his good rhythm and hind leg usage.
Ranked on third place was the KWPN stallion Broere Montecristo by El Corona. They gave him a 9.0 score. Dutch Liseon Kamper made sure that her mount Montecristo's qualities were properly highlighted. The bay stallion has good gaits with much rhythm, but he tends to go behind the vertical in the transitions.
A flamboyant combination was the Swedish rider Susanne Gielen with her yellow dun Ravell (by Bernstein) who excelled in his ground-covering and rhythmical walk. He could have been more active in the hind legs but he still showed a superb relaxation.
The Belgian combinations showed nice horses but they were a bit limited in their potential when one looks at the other competitors.