1999 World Championships for Young Dressage Horses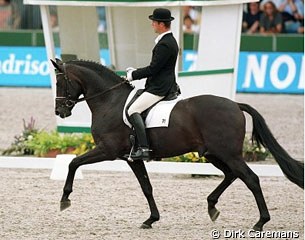 The sky finally broke open and some sun strips were reaching the show ground. The 2nd qualifier for 6 year old horses (group I) in the World Championships for Young Dressage horses was an absolute climax.
Last combination to enter the ring was a picture perfect. Never in my life have I been so amazed about a young horse as today. Dr Ulf Moller, who became famous by riding top notch auction horses in Verden, presented an example of absolute perfection. This Adam from Paradise was "Sandro Hit": a gorgeous black Oldenburger stallion by Sandro Song. Not only did the black show three excellent basic gaits but throughout his test he remained in pure suspension, showed power, print, expression, quality, potential, you name it. If everything goes well with this horse he can be a new Olympic champion within five years. Sandro Hit received a 9.7 score, which made him the highlight of the day.
Second placed was the KWPN stallion Lingh (by Flemmingh). The bay beauty possesses a regulated, active trot but his canter might be more uphill. The judges (Ernest Bachinger (AUT), Volker Moritz (GER) and Francis Verbeek (NED)) agreed that the walk was not ground-covering enough but that the extended canter was ridden with full energy. Edward Gal was his rider and gather 8.5 points.
Third placed, but second best of the group (imho) was the Derbyfavorit descendent Derby L. A wonderful Westfalian liver chestnut professionally ridden by Herman Gosmeier. The gelding showed an active trot with a high degree of collection, good impulsion and overall a nice picture of harmony. They gathered 8.3 points.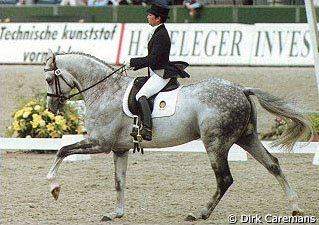 Belgian warmblood Ainsley's Quicksilver (by Latano x Touch of Fairway xx) conquered a fourth place under his newest rider and owner Jeanette Haazen. She rode a well balanced test and placed the dapple grey stallion in a good frame. The judges did remark that more impulsion from behind was wanted (especially in the extensions). The flying changes were decent but not very expressive. They received 8.2 points.
The Weltmeyer son Weltfurst came in fifth, which was a rather underrated position if one looks at the qualities of this horse. Johannes Augustin from Germany pushed expressive, fluid trotwork out of Weltfurst. But at the end of the extended walk tension showed up and the picture of harmony got a bit disturbed. The pair received 7.9 points. 
The only Belgian rider in this group was Wim Verwimp. Lavador is lovely KWPN stallion but was uneven in his trot work and was ridden too "passagy". He didn't show any extensions at all, balance was missing. General remark on Lavador was that the horse did not carry any weight on the hind legs which resulted in the impossibility to collect and extend. Verwimp received 6.8 and placed 11th.