1999 World Cup Finals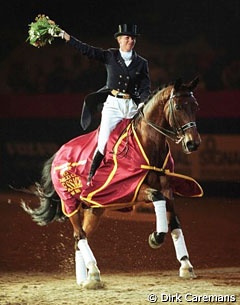 For the first year the World Cup Finals were organized without the support of the Swedish car company Volvo, and luckily the formula remained a success. With the support of the FEI a circuit of 12 CDI-W qualifying shows was hosted in various countries all over the world.
A strong field of European riders presented their top horses as well as their nachwuchspferden (reserve horses) in the trials. For North America Canadian Dana Hewett and American Robert Dover were selected for the finals. Australia represented the 22 year old Rachel Downs with her Holsteiner Yardley Charisma II. While Anky van Grunsven opted for her trusty mount Gestion Bonfire, World Champion Isabell Werth chose for her Hanoverian Trakehner Nissan Anthony FRH. Louise Nathorst didn't start in any qualifiers as her last year's victory gave free access to defend her title.
It was, like expected, Anky van Grunsven who claimed the World Cup for her fifth time. Bonfire was in excellent shape and did a wonderful kur to music final test. Isabell Werth followed her closely with Anthony FRH. Third place went to German new comer Alexandra Simons De Ridder with Chacomo. American Robert Dover came in eigth after a rather disappointing kur. Westphalian Lennox will be separated from Dover as owner Ken Aceball wants to make a combination with his horse. Lennox is only 8 years old and has still a future ahead of him.
For junior-riders.com (now Eurodressage.com) the World Cup Finals were a success as well. This website was the fastest to report with complete scores and break down thanks to Sport Computer Graphics De Vries. With house photographer Dirk Caremans hot on the spot we were also able to provide exclusive pictures from the finals as sole website on the internet. 
Picture you see this artistical shot of Anky van Grunsven during the award ceremony taken by Dirk Caremans.
Image copyrighted: no reproduction without PAYMENT
Related Link: Photo Report of the 1999 World Cup Finals