Eurodressage F.O.C.U.S.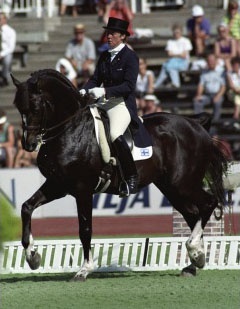 The Finnish dressage legend, Kyra Kyrkland has participated in five Olympic Games, two World Equestrian Games and six European Championships. With Matador, Kyra Kyrklund placed fifth at the Seoul Olympic Games in 1988 and won the silver medal at the 1990 World Equestrian Games in Stockholm, Sweden.
Besides numerous international victories, she has earned the national title of Finnish Dressage Champion more than ten times. 
In the Beginning  
Born in 1952, Kyra's equestrian career started in a stable near Helsinki, where she attempted to ride her uncle's draft horses. In 1967, she participated for the first time in the National Show Jumping Championships for junior riders with the Polish gelding Dragon. Two years later, she purchased her first horse, Kasper. With this Swedish gelding she achieved various successes in dressage, show jumping and three-day event competitions. In 1972, Kyra and Dragon were the Finnish Dressage Champions. 
She participated for the first time at a European Championship with the Danish horse Piccolo (by Pilar), finishing 20th. In 1980, the combination represented their homeland at the Olympic Games in Moscow, placing fifth. Riding Danish Nor (by Monark) in the Los Angeles Olympic Games in 1984, she placed 17th. 
Matador  
With perhaps the most special horse of her career, Matador, she placed fifth at the Seoul Olympic Games in 1988. Surviving colic surgery, Matador with Kyra as his guide, won the silver medal at the 1990 World Equestrian Games in Stockholm, Sweden. After their victory in the 1991 Volvo World Cup finals, Matador (by May Sharif) was sold to Yoshinaga Sakurai from Japan. 
Edinburg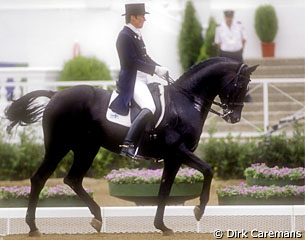 With the Russian Trakehner stallion Edinburg (by Elever), purchased in St. Petersburg, Russia, she expanded her list of achievements. Edinburg started his career as a racehorse, but Ivan Izimov, the gold medal winner at the Olympic Games in Mexico, discovered his talent as a quality dressage horse in 1988. In 1992, Kyra and Edinburg placed fifth at the Olympic Games in Barcelona. One year later, they finished fourth in the European Championships in Lipica. And in 1994 she was third in the World Cup Finals in Gothenburg, Sweden. 
Trainer  
Besides her own busy show schedule, Kyra also trained the Finish Young Riders Team for a couple of years. In November 1991, Kyra accepted the position of head trainer of the Flyinge National Breeding Centre in Sweden where she trains with Richard White. In that capacity, she helped the duos of Ulla Hakkanson and Flyinge Bobby, and Annette Solmell and Flyinge Strauss earn spots on the Swedish dressage team.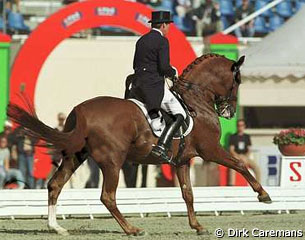 With Flyinge Amiral, a Swedish Warmblood Stallion (by Napoleon 625 out of Flamkella by Flamingo 481) she entered the international dressage circuit again. At the 1996 Olympics in Atlanta, a last minute injury to Amiral's eye made for a tense moment at the horse inspection, which he passed. It was a disappointing performance in Atlanta, but he went on to place 10th at this year's World Equestrian Games, in Rome, Italy, with an average of 70%. 
Clinics in the USA  
Known in the United States as "the great communicator" Kyra Kyrkland gives clinics and training sessions, including the incredibly successful USDF Dressage Symposiums, which are always  sold out. Usually limited to a precious few American riders, who earn the privilege of being invited, she fills the stands to capacity with auditors.  
Boards and Clothes  
Kyra is also on the board for The International Dressage Riders Club, and has her own wardrobe line of quality functional jackets and vests. Her latest version of the lightweight yet warm jackets are cut comfortably for riding, and even have a special "sugar pocket" 
for easy access to reward your horse. At the end of 1998, Kyra will end her function as trainer at Flyinge and will move to England where she will start her own dressage stable. 
This article is also featured on http://horsesdaily.com