Hanoverian Breeding News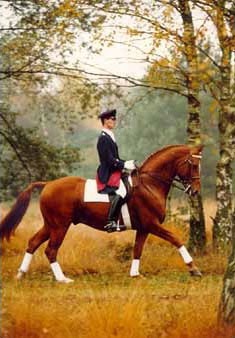 The Hanoverian sire Weltmeyer who is owned by the Celle Landsgestut and bred by Herman Meyer, Allvorden, has been proclaimed as Stallion of the Year 1998.
This title, which is sponsored by Uelzener Insurance Agency, has been awarded for the seventh time and includes a bronze plaque and a check of $12.000. The award is a special dedication to the breeder and an homage to Weltmeyer's importance for the Hanoverian Association. 
Weltmeyer, what a name, what a horse, what a sire. From the moment Herman Meyer presented this stallion at the 1986 Stallion Approval in Verden, the judges and other breeders were dazzled by his performance. His name, "ruler of the world", his victory at the stallion approval and later at the national championships and DLG- representation was a prophecy which he successfully fulfilled. He sired 51 approved stallions for the Hanoverian association, he produced champions in the stallion performance tests and bundeschampionships. 
His daughters also belong to the class of top quality mares; 150 mares became State Premium Mare and in mares tests a large collection of his fillies can be found in the top five. With a dressage index of 189 points Weltmeyer belongs to the 10 best Dressage Sires in the World. The National broodmare show of 1998 became a real Weltmeyer festival. Bronze medal winner in the five year old division of the Bundeschampionships was Weltino (Weltmeyer x Gelria/T), ridden by Holga Finken who also steered White Magic to a fourth place in the stallion class. 
But also at international level, the first Weltmeyer descendants are achieving. Ellen Schulten Baumer became European Junior Rider Champion with the Weltmeyer x Marbod mare Weserperle S and Holga Finken is also competing Wie Weltmeyer at Grand Prix level. 
The chestnut Weltmeyer is by World Cup I, who himself has been 'Stallion of the Year'.   Besides Weltmeyer, Werther, World Cup I, Argentan, Espri, Don Juan and Gralsritter are members of this special  Hall of Fame.