1998 Belgian Dressage Championships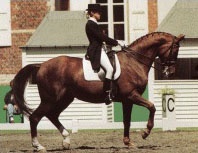 Organizing the Belgian Championships at your stable, is wanting problems. Riders complain all the time, the Belgian federation is cutting back on their resources: nothing but troubles.
This time Koen Heeren and Willy Snyers from Schaffen took the challenge of holding the B.C. at their property. The entry list was made by a draw but an hour before the first test (Intermediaire II), a sudden change was made in the programmation, which only led to more stress for the riders
After a lot of quarreling between the secretary and a member of the dressage commission the test was about to begin. Two riders withdrew their horses. Claudia Bauwens didn't show Carramba because of an injury, and Koen Verdegem wasn't able to show Kurillos as he had sold the horse the week before the BC.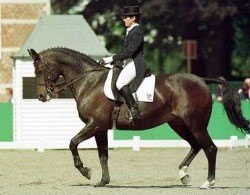 Arlette Holsters did appear on the show circuit and that was appreciated by many persons. She would obviously become the new Belgian Champion. Second and third place made part of a true battle, which was fought between Ann d'Ieteren, Evelyne Van Beuningen en Ludo Verbraeken.
In the Intermediaire II Ann d'Ieteren rode a nice test but her tempi changes could have been better. She received 60%. Ludo Verbraeken was also good (58%) but the piaffe needs more improvement. Evelyne Van Beuningen missed a lot of changes and made some beauty-errors in her test. She got 56%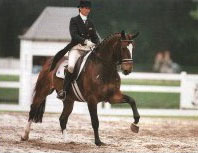 The day after, Arlette Holsters rode a flawless Grand Prix and by scoring 67% she was the absolute winner. Also Ann d'Ieteren performed excellently and received a deserved 63%. Evelyne van Beuningen rode a 58% with her bay KWPN Cozumel. Ludo Verbraeken, who missed a change in the tempo changes every stride and whose piaffe-passage transitions could have been better, became a victim of the Belgian judging system. The three foreign judges gave Ludo Verbraeken 59% even though he made two mistakes, but one of the Belgian judges decided that he definitely shouldn't have won the bronze medal and awarded Ludo's test with a pour 54%. The other Belgian judge gave him the reasonable score of 57%, which would also be his final Grand Prix score.
Gold: Arlette Holsters with Faible 
Silver: Ann d'Ieteren with Iguazu 
Bronze: Evelyne van Beuningen with Cozumel 
4th place: Ludo Verbraeken with Juturn 
Images copyrighted: Dirk Caremans - Photos 1997 CDI Schoten