1998 European Junior and Young Riders Championships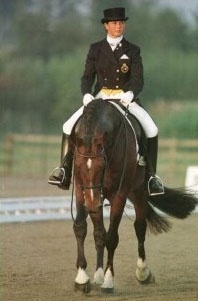 We had high hopes in Vicky Smits. At the 1995 E.C. for Junior Riders in Helsinki, this girl surprised all nations by placing second between the German power combinations. In 1996 Vicky Smits won the golden team and individual medal at the CDI in Hickstead, UK. These show grounds were meant to be for her. This year she would go for the gold, and it was almost in her reach.
She started this E.C off with a second place in the Preliminary test. Gold was within reach. In the Team Championship tests the Germans were too strong (again) and pushed her back to fourth place. She was the only Belgian rider which qualified for the Individual test but that we actually expected that. Ona De Wagenaere could have been the only Belgian rider who could aim for an individual ranking, but her scores weren't as high as we hoped for.
Vicky defended the Belgian honor by herself but just couldn't make it for a medal. She placed fourth with the wonderful score of 69.32%. Disappointing or not, she did a great job. On the happy side, the Belgians did bring home the bronze team medal which was achieved by Vicky Smits, Ona de Wagenaere and Dorothy Raemdonck.
Chef D'Equipe Dirk Hooghe wrote the following words in his press release:
"A few days before the departure of the junior riders team, Ellen Ceulemans' Fruhlingsnacht got injured and was bound to stay home. The junior team hereby had to cross the Channel with only three riders. Both teams left on Monday 18th August with a ferry under supervision of Chef D'Equipe Dirk Hooghe. The jog was on Tuesday and all Belgian horses were accepted.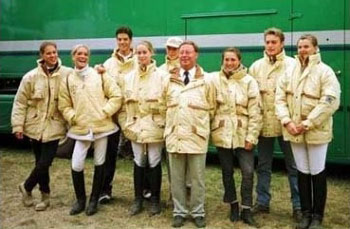 The draw decided that no junior riders and only Young Rider Dorothy Raemdonck had to ride the first day. On Thursday junior rider Laurence Raemdonck rode an accurate test with a steady contact. His score was 66.53% Diana Smolders and Larissa Pauluis received the same score: 64.20% In the Young Riders' division Vicky Smits scored 69.11% and was placed second right behind the German Astrid Buer. Ona De Wagenaere got 62.22% and Frederick Van De Keere 60.72%. Dorothy Raemdonck rode a score of 60.11% which is below her normal level, but the fact that she had to start as first rider could have contributed to this abnormality.
In the team championship test for junior riders Larissa Pauluis scored the highest (66.06%) of the Belgian riders, while Diana Smolders (65.20%) and Laurence Raemdonck (63.14%) contributed to the fifth place in the nation's cup. Two riders were thus selected for the Consolation finals.
Vicky Smits was the first Belgian rider in the team championship test for young riders. She rode a very correct test with maybe a little less impression than the preliminary test, but still well enough to score 69.28% Ona de Wagenaere got 64% and Dorothy Raemdonck 63.18%. The bronze medal was in the bag. For the first time in history that a Belgian Young Riders' team got a medal at a European Championship.
In the consolation test for junior riders Diana Smolders got second with 67.20% (a score which would place her fourth in the individual finals) and Larrisa Pauluis got third with 66.93%
Young Rider Dorothy Raemdonck scored 63.83% and Ona de Wagenaere 63.22% in their consolation test.
All Belgian hope was set on Vicky Smits' performance in the individual YR finals. Even more because she had already proven to be able to resist the German pressure at an E.C. Even the draw was excellent: Vicky had to start as last combination. A beautiful image, with great balance and tact. The first walk pirouette was too big and one canter pirouette didn't have enough impulsion which cost her a medal. She scored 69.32% and was placed fourth right behind the three German riders: Schulten Baumer, Buer and Schule.
As conclusion I can say that this European Championship has been a break-through in Belgian Dressage History. A bronze medal was never achieved in this category and it proves that trainers and representatives in the Dressage Commission are working to improve the dressage discipline. During the Award Ceremony a huge crowd of Belgian supporters appeared and gave an ovation for the Belgian Bronze medalists."
Related Links
Scores 1998 European Championships for Junior & Young Riders
Photo Shoot of Belgian Team at the 1998 EUJYRC