1998 Pavo Cup Finals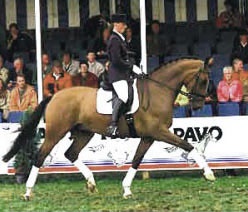 Four years ago, Pavo, a European horse feed company, decided to sponsor a special circuit for four and five year old dressage horses. This initiative, which was applauded by the KWPN studbook, has become one of the most popular classes on the national show circuit.
By creating a special division for youngsters, these future dressage champions were judged more on their potential and movement instead of their conformation and ability to run a correct test. The selection trails for the Pavo Cup Finals started in May. A number of national shows hosted these dressage youngsters as they assembled to ride the qualifiers. The winners of each division were automatically selected for the finals.
The finals, which were part of the Rabobank Paardendagen, were held at the national KWPN breeding center in Ermelo. The top thirty horses of each age-division were selected for the second round of the finals. In the second round this group of thirty started from scratch and a jury of one breeder, one rider and one official dressage judge selected the top ten. The actual finals consisted of riders' test by Ellen Bontje, member of the Dutch Dressage Team, and KWPN enthusiast Robert Dover. Bontje and Dover both gave one point for potential and one for rideability. These points are added to the scores from the second round, which makes the "guest riders" the most important judges at the Pavo Cup.
The powerful and strong moving stallion Montecristo (by El Corona) won the first two rounds but had to give up his first place to the Guelders bred mare Mariena in the four year old division. Five year old Lucky Times was the ruling champion of his age class. After having won the four year old division last year, this horse's movement was again unbeatable. Second place, Laurentius (by Cocktail) showed a lot of suppleness but wasn't as solid at the canter.
Following Germany's example with their National Young Horse Championships and special Nobilis Cup, and Belgium with their National Young Horse Show Circuit, The Netherlands can also testify to the incredible success of special young horse shows. In the past approved stallions (Iglesias, Junior STV; Krack C) dominated the Pavo Cup but this year Mariena broke the tradition and proved that mares also reign in dressage potential.
Four year old division
1. Mariena (Zep x Natuur) - Sandra Huijnen - 433.5 points
2. Montecristo (El Corona x Clavecimbel) - Liseon Kamper - 430 points
3. Menneke (Farrington x Solied) - Ilona Goris - 408.5 points
4. Royal Investment (Investment x Uniek) - Madeleine Vrees - 390 points
5. Mozaiek STV (Iglesias x Uniform) - Imke Bartels - 377.5 points
6. Belvedere's Maxim (Investment x Samber) - Kitty van de Klundert - 377 points
7. Mister Bochon (Cabochon x Uniek) - Nick Wagman - 361.5 points
8. Maestro (Elcaro x Wolfgang) - Heleen Van Zomeren - 358.5 points
9. Mitchell (Inspekteur x Zonneglans) - Marian Dorrestijn - 358 points
10. Maestro (Houston x Amethist) - Petra Tol - 356.5 points
Five year old division
1. Lucky Times (Good Times x Belfalas xx) - Anne van Uytert - 430 points
2. Laurentius (Cocktail x Flamingo) - Gerdine Maree - 406 points
3. Le Montrachet (Winckenburg x Rivaal) - Marie Jose Hulsman - 405 points
4. Lodinho (Balzflug x Naturel) - Johan Rockx - 403 points
5. Limbo (Wellengton x Lector) - Erik van de Wildenburg - 399.5 points
6. Lamdsburry (Darwin x Symfonie) - Nathalie Smeets - 387 points
7. Bonaparte (Balzflug x Jasper ) - Nick Wagman - 386 points
8. Lucifer (Clavecimbel x Ulft) - Barbara van de Broek - 375.5 points
9. Lancet (Wenzel I x Shogun xx) - Gerdine Maree - 370 points
10. Luzelma (Cabochon x Apollonios xx) - Adelinde Cornelissen - 361 points