1997 Belgian Dressage Championships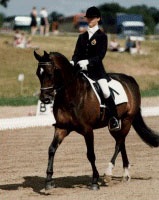 Delphine Meiresonne with Casper started off as the one to beat, but she didn't really get the title that easy. In the preliminary test, Ruth van Campen with Crack Drum rode to the high score of 64.96%, Delphine followed with 64.44%
, but also Katrien Verreet (Muldershof Chico) and Wibrigje Jordan (Aphrodite) were still in the running. De final decision was to be made in the Par Equipe test. Even though the scores were a bit lower, the quality of the ridden tests was pretty high. With her roan pony Aphrodite Wibrigje showed a very interesting test. The judges rewarded her test with 61.53%. Muldershof Chico isn't a very large pony, yet this little liver chestnut has got three stable basic gaits and a lot of tact. Katrien steered Chico through her test on a nice way. With a total of 62.20% Katrien became third and won the Bronze medal. An excellent show did Ruth van Campen ride with Crack Drum van het Prinsenhof. This flashy bay pony has got a lot of front and expression, with in his trot a high elevation of the front legs. Ruth rode a test with hardly any faults, but could have showed more expression. Her score was 66.07% The final ride was the one of Delphine Meiresonne with her Welsh gelding Casper. This pony has got three spectacular movements, which are very ground covering! Delphine rode her test with a lot of pressure, but everything was kept under control. With the score of 66.60% she became the new Belgian pony champion with 1.869 points in total. Ruth followed with 1.868 points and thus the silver medal.
Junior Riders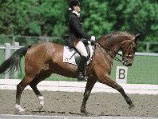 The battle of the junior riders was one out of the blue. Larissa Pauluis gave a great performance. In the preliminary test she received a score of 65.07% with Cass (1st placed) and 64.93% with Iban (2nd placed). Larissa, who hardly showed this year wasn't even selected for the European championships. Now she definitely took revenge. Diana Smolders rode to a little disappointing score of 61.80% and became third. Also Ona de Wagenaere got less than we expected: 61.53%. Dorothy Raemdonck rode a good pieces and bad ones (61.33%). In the Par Equipe we got to see some suspense. There was a lot of pressure on all the riders because everyone still had chances to win. Larissa Pauluis' Cass got 65.94% as she only made some small beauty errors. Dorothy Raemdonck rode a satisfying test with some pressure in the trot, yet nice traversal movements (63.94%). Diana, who was really out for the title rode with Clark some extra canter-excercises, a very strong extended trot, but the extended walk could have been better. Her points were 64.63%. That's a nice score but remarkable was the variety of placements she got from the judges (3-4-1-3-1). Ona seemed to be in bad shape. Apollo ran a nice test but still the little faults made the score drop. With a score of 62.40% she became fourth. Eventually Larissa got the gold, Diana the silver and Dorothy the bronze medal
Young Riders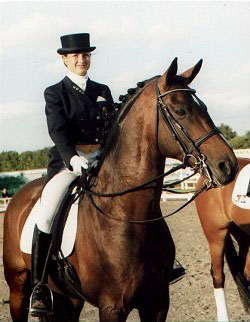 Expected and eventual winner was of course Vicky Smits with the wonderful Illuster. In the preliminary test Vicky already won, second was Veronique de Baecker, Judith Godefroid and then Frederik van de Keere (fifth placed was Ann Meerts with her Welsh Capell's Shira). In the Par equipe Frederik rode a nice test, with a less extended trot but with correctly ridden exercises and an excellent canter. His score: 63.44% Veronique seemed to have lost her shape the last few months. Even at the championships she made too many mistakes and received the score of 59.25%. Vicky rode with less expression than we are used of her, but still received a score of 66.69%. Judith Godefroid rode her phlegmatic Waldo to 61.94% The final standings were thus: Gold Vicky Smits, Silver Frederik Verkeere, bronze Judith Godefroid and fourth placed Veronique de Baecker.