Australia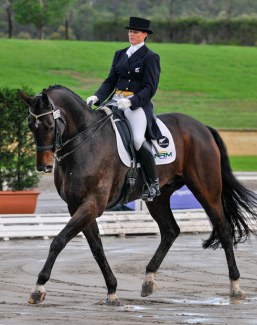 New Zealand Grand Prix rider Vanessa Wwill put Australia's top young horses through their paces in the Australian Hanoverian Young Horse Championships held at the 2018 CDI Sydney on 2 - 5 May 2018.
A three-time veteran competitor of the Sydney CDI herself, Vanessa will ride the top three finalists in the four-, five- and six- year-old competitions in the newly-resurfaced indoor arena of Sydney International Equestrian Centre (SIEC), providing commentary on her experience for spectators and judges.
The Hanoverian Horse Society of Australia's Young Horse Champions in each age group will be decided by the results from the expert panel of judges and Vanessa's assessment .
In the past the role of guest judge rider has been covered by Melanie Schmerglatt, Andreas Schoffner, and Anna Sophie Fiebelkorn, who in 2017 announced that she would be spending considerably much more time in Australia teaching and training, but who has now returned to Germany as joined the big riders' team at Gestut Sprehe in Benstrup, Germany.
Vanessa has taken out many prestigious titles in her home country, including New Zealand Horse of the Year twice at Grand Prix level as well as New Zealand National Grand Prix. Internationally, she has competed in Australia, the United Kingdom and France, and obtained qualifying scores for the 2012 Olympics and 2014 World Equestrian Games. She also attained pre-selection scores for Rio, and was selected for the NZEF High Performance Squad (Carded athlete).
Vanessa is currently the only coach to be named a New Zealand Qualified Elite High Performance International Coach, and has coached Australian eventing team members as well as the United Kingdom at the 2008 Beijing Olympics and the 2010 Kentucky World Games, where members brought home team Bronze.
She has has trained and developed all of her own horses to international level.
Photo © Venhaus
Related Links
Melanie Schmerglatt, Young Horse Guest Judge Rider at 2016 CDI Sydney
Andreas Schoffner, Guest Judge Rider at 2012 CDI Sydney Young Horse Competition
Fiebelkorn Relocates to David Taylor Dressage, to Spend More Time in Australia
Fiebelkorn Reinvited as Guest Judge Rider at 2013 CDI Sydney
Fiebelkorn, Guest Judge Rider at 2011 CDI Sydney Young Horse Competition