German Dressage News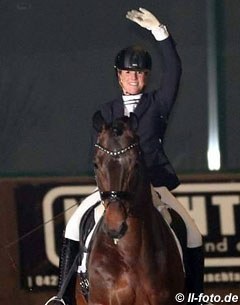 German young horse rider Anna Sophie Fiebelkorn has relocated her horses to David Taylor Dressage in Stuhr, Germany, as she has decided to spend more time coaching in Australia.
The majority of Anna's horse stock will be allocated to new riders. Her top youngster, Gut Lonken's licensed stallion and Bundeschampion Don Martillo, will get a new rider soon. MDM Zodiac and Don Henry, both owned by the Matti couple from Switzerland, will be ridden by David Taylor. 
"I will continue to advise and consult with my owners as to the best way forward with their horses, but there will be new riders for most," Fiebelkorn told Eurodressage. "Stud Lonken have some great horses who will continue to aim for Bundeschampionate and World Championship representation which is an exciting development for a new stud. I will continue to support Stud Lonken with my advice and they are looking now for a new permanent rider for their stallions."
Australia became Fiebelkorn's second home after she first went there six years ago as a guest judge rider for the 2011 CDI Sydney. Since then, she has made connections and traveled down under to coach a select group of riders. Fiebelkorn now wishes to build on that network and create a bigger presence in Australia. 
"With this area of my business growing, I have a keen interest in developing and facilitating my shift in focus to coaching whilst still riding a select group of horses," said Anna who confirmed that she is not permamently moving to Australia. "I still have my base in Germany with the same team, but for the next few weeks I will travel to each state in Australia for clinics."
Photo © LL-foto
Related Links
Fiebelkorn, Guest Judge Rider at 2011 CDI Sydney Young Horse Competition
Fiebelkorn Reinvited as Guest Judge Rider at 2013 CDI Sydney
Benetton Dream Sold, Ride Returns to Fiebelkorn
Fiebelkorn and Callaho's Benicio Part Ways
Von Depka Acquires Co-Ownership of Don Martillo
David Taylor: The Rider Behind the Surprise 2015 Oldenburg Saddle Licensing Champion