2011 CDI Sydney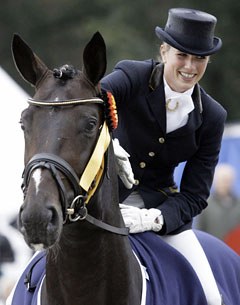 The Young Horse classes have been a part of the Sydney CDI since 2004. As the years have passed the number of entries has increased. This year 28 horses qualified for the four year old class, 21 for the five year old class and 14 for the six year old class. Not only do these classes nurture the talented youngsters but it also gives breeders a chance to showcase their years of hard work.
There are two rounds for each class and it is in the third round that the guest rider determines the winner for each age group.
This year's guest rider is Anna-Sophie Fiebelkorn from Germany. Anna was born in 1982 in Uberlingen on Lake Constance. Anna was already in the saddle as a six year old. Her initial focus was on jumping. She completed her training as 'Pferdewirtin' with emphasis on riding at the Riding and Driving School at Verden under the guidance of Joachim Weist and Marci List. She was presented the Stensbeck Plaque for her final exams and was awarded a scholarship with Jurgen Koschel in Hamburg.
Anna passed her Master exam with distinction and is one of the youngest horse economists in Germany. She gained experience as a long-time auction rider at the Hanoverian Federation and presented a number of top sellers at the Verden Auctions. Since 2006, Anna runs an FN-accredited training establishment at Oyten and her trainer is Hans-Heinrich Meyer zu Strohen.
Her achievements include wins and placings in the prestigious Bundeschampionate and also at the Young Horse Championships. The organisers of the Sydney CDI are thrilled to have such an experienced Young Horse competitor to ride the finalists.
There has been some scepticism that the winners of the Young Horse classes will then move up the ranks and successfully compete at the higher levels. Some believe that although these horses may have movement, confirmation and rideability they do not necessarily have what it takes to get to the top. Over the past seven years of the Sydney CDI there are a number of horses that have proven this wrong.
In 2004 Jaybee Alabaster won the five year old class and it was only last year that he competed at the Kentucky World equestrian Games with Rachael Sanna onboard.
In 2004, Chatham Park Jac won the six year old class and went on to represent Australia at the World Equestrian Games in Aachen in 2006.
Northern Simba who is the only horse to consecutively win the Sydney CDI, four, five and six year old Young Horse classes is now being trained in Germany as a Grand Prix prospect.
There are also numerous winners of these classes that are now competing in Small Tour competitions throughout Australia.
Having Anna-Sophie Fiebelkorn as Guest Rider, the Sydney CDI 3* will once again identify horses with the potential to one day compete at an international level.
by Scott Pollock
Photo © Werner Ernst
Related Links
New Format for 2011 CDI Sydney
Chantal Wigan Hits Top Form for the 2011 Sydney CDI