Norway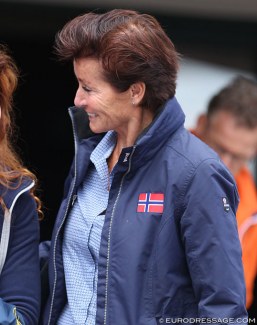 Kristin Andresen has decided to end her sponsorship of Norwegian equestrian sport through her company FERD due to disgruntlement about the direction the Norwegian Equestrian federation is taking when it comes to scouting and recruiting talent.
For years Andresen has been a key sponsor of dressage and equestrian sport in Norway spending millions of Norwegian krones through programmes like the FERD riding school cup, the FERD come back cup, the young horse championships, the national team championships, as well as the regional and national championships.
However, in a recent interview with Dressage Sa Klart she expressed her dissatisfaction with the management and how her sponsorship money was being spent. She especially expressed concern about the privatisation of the riding schools and the lack of riders interested in competition.  "I'm not interesting spending money on the sport when it's used exclusively amongst friends and family for positions in the administration and the coaching," she said. "There is no real assessment of the applicants and their skills, while trainers and candidates with high competition, especially internationally, are not considered."
Tore Sannum, the president of the Norwegian Equestrian Federation, reacted to Andresen's statements. "Personally I appreciate that Kristin is challenging us and comes with input that can help us improve," said Sannum. "Kristin (...) is well aware that processes and changes take time and that structural changes must be rooted in a democratic process. Some items are decided by the rider general assembly, which only takes place every two years." Sannum denied that there is a declining membership and participation at shows, but he added that it has been a status quo and not an increase."
Andresen and her daughter, Norwegian young rider Alexandra Andresen, are currently spending time at Mikala Munter's Bell Tower Farm in Wellington, Florida. Alexandra has taken four horses to Florida for the first time and will compete on the Wellington circuit to escape the cold winters in Norway.
Photo © Astrid Appels
Related Links
Alexandra Andresen Engaged
Alexandra Andresen Fractures Wrist in Riding Accident
Borencio Sold to Alexandra Andresen
Andresen Sues KWPN for Selling Unhealthy 2015 KWPN Licensing Champion Handsome O