KWPN Breeding News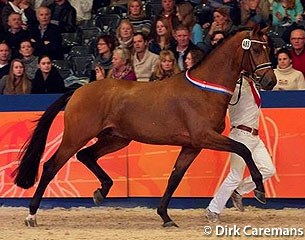 Norwegian dressage horse owner Kristin Andresen is suing the KWPN society for selling an unhealthy horse, the 2015 KWPN Stallion Licensing Champion Handsome O, to her at the 2015 KWPN Select Sale.
Andresen bought licensing champion Handsome O (by Johnson x Rousseau) as the price highlight of the 2015 KWPN Select Sale for 300,000 euro. The horse was originally owned by Jan Brouwer and brokered by the KWPN via its Select Sale auction.
Soon upon arrival in Denmark, the stallion immediately proved to be unheahtly. After a very thorough medical inspection, the bay stallion was diagnosed with several major health issues, including damage to his neck verterbra and stringhalt.
These conditions immediately ruled Handsome O out for approval with the Danish warmblood society and also reduced his potential for becoming a top dressage horse. Andresen's daughter Alexandra is the 2014 European Junior Rider double silver medal winner.
Andresen is now suing the KWPN society. The KWPN society, represented by Wibe Reddingius, states that the owner of the stallion is resposible in this matter and claims the society only served as broker, while Handsome's previous owner Jan Brouwer, who is represented by lawyers Weda & Wensing, say that Andresen needs to resort this with the KWPN society.
"They breed beautiful horses in The Netherlands, but I will never buy another one via a KWPN auction," Andresen told Dutch equestrian magazine De Paardenkrant. "We are very suprised about the arrogant behaviour of the KWPN. Do they realize which signs they are giving to potential buyers with this behaviour? I have bought horses before at the auction in Verden and the service is great there. If you have a problem, they try to solve it. KWPN frankly states it's not their problem."
Photo © Dirk Caremans
Related Links
Handsome O, Champion of the 2015 KWPN Stallion Licensing
Seebach and Handsome O Withdraw from 2015 Danish Warmblood Stallion Licensing
Alexandra Andresen Begins Bereiter Internship with Johann Hinnemann