2017 CDIO Uggerhalne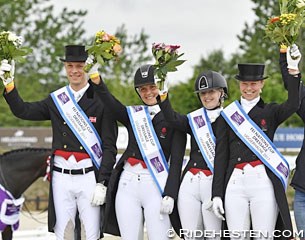 The home team of Denmark became the winners of the Nations' Cup held during the 2017 Equitour Aalborg CDIO in Uggerhalne, Denmark, on 1 - 5 June 2017. With only four team competing at the third 2017 Nations' Cup leg in Uggerhalne, Denmark fielded a team almost at full force and grabbed the victory with ease.
Two Danish Olympians - Anna Kasprzak on Donnperignon and Agnete Kirk Thinggaard on Jojo AZ - and two Danish rising stars - Charlotte Heering on Bufranco and Daniel Bachmann Andersen on Zack - went all the way and scored a total of 439.406 points over three tests to put them comfortably in first place. Finland finished second with 414.494 points and Holland was third with 413.897 points. The American team followed in fourth place wiht 410.220 points. 
On the final day of competition on Monday 5 June the CDIO Grand Prix Special and Kur to Music were contested. The Special was won by Kirk Thinggaard on her 14-year old Hungarian bred Jojo AZ (by Ginus x Justboy) with 72.529%, followed by Heering on the 11-year old Dutch bred Bufranco (by Negro x Zevenster) with 70.137%. Thinggaard had a few hiccups in the tempi changes and canter pirouette, but overall the ride was solid enough to ace the class. 
"Jojo is usually the best on the first day and then actually again on the third competition day when we ride three days," Thinggaard told Ridehesten. "But today was the second day and I could feel he did not have his usual energy level. Of course this is also because is not yet at the peak of his performance level," Agnete added, admitting that the mistakes were hers.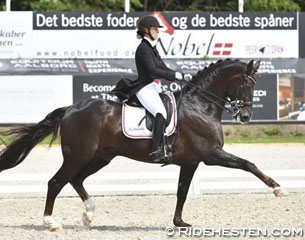 In the Grand Prix Kur to Music, Anna Kasprzak and the Finnish warmblood Donnperignon, the winners of the Grand Prix, also aced the class. She scored 77.300% and edged out Daniel Bachmann Andersen on the Blue Hors stud owned 13-year old Dutch warmblood stallion Zack (by Rousseau x Jazz). This pair earned 75.550 to finish second. 
"We know each other so well now," said Kasprzak of her 18-year old equine partner. "My groom Jane and I know all of Pepe's routines and we know what works best for him. Inside the arena I feel that we have improved on a few small things and that's a nice feeling."
Also Bachmann was ecstatic with the results he achieved on Zack. "It's a great feeling to achieve this with a horse that few believed in he was up for the very big tasks. Many thought Zack would be a really nice small tour horse, but would not make it to Grand Prix. Neither I, nor Esben Moller, nor Lars Petersen had that attitude because we also believed that the horse would make it to the big tour. I'm very happy to have ridden over 75% today."
Photos © Ridehesten
Related Links
Scores: 2017 CDIO Uggerhalne
Kasprzak Shows the Way in Nations Cup at 2017 CDIO Uggerhalne
Quarton and Bohemian Swap Places in Inter I at 2017 CDIO Uggerhalne
Dufour and Rising Star Bohemian Win on Day One of 2017 CDIO Uggerhalne
Danish Teams Selected for 2017 Nations Cups in Compiegne and Uggerhalne
American Team Selected for 2017 CDIO Uggerhalne
Dutch Team Selected for 2017 CDIO Uggerhalne
Equitour Aalborg to Host Danish Leg of 2017 FEI Nations Cup Series