2017 CDIO Uggerhalne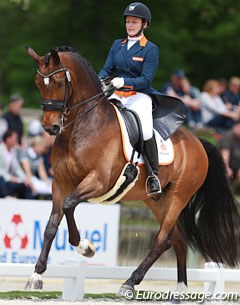 Dutch team trainer Rien van der Schaft has announced the team that will represent The Netherlands at the third leg of the 2017 FEI Nations Cup series held during the Equitour Aalborg in Uggerhalne, Denmark, on 1 - 5 June 2017.
Uggerhalne will be the third leg of the 2017 series, which kicked off in Wellington, Florida, in March. The second installment will take place at the CDIO Compiègne in France on 18 - 21 May 2017. 
After Uggerhalne four more Nations Cup legs will be held of which no less than three take place in July: Rotterdam (22-25 June), Falsterbo (13-16 July), Aachen (19-23 July) and Hickstead (27 - 30 July).
The Dutch team for the CDIO Uggerhalne will include:
Katja Gevers  - Thriller
Danielle Heijkoop - Badari
Lynne Maas  – Uranium
Margo Timmermans – Catch Me
Photo © Astrid Appels
Related Links
Equitour Aalborg to Host Danish Leg of 2017 FEI Nations Cup Series
Danish Teams Selected for 2017 Nations Cups in Compiegne and Uggerhalne