FEI Dressage News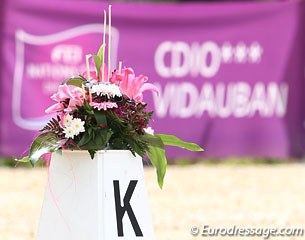 With the release of the 2015 CDI calender on the FEI website, seven competitions have been unveiled as Nations' Cup events as part of the  FEI Nations' Cup series, which has been staged as a pilot series the past two years.
The 2015 calendar is still pending final approval at the 2014 FEI General Assembly held
Seven shows have been marked with the CDIO Nations' Cup status. New comers on the program are Aalborg (DEN), as well as Hagen, replacing for Aachen which will be hosting the 2015 European Championships in August instead, and Falsterbo. The CDIO Kristiansand in Norway has been dropped.
The tentative CDIO schedule looks as follows:
04 - 08 March 2015: CDIO3* Vidauban, France
24 - 29 March 2015: CDIO3* Wellington, FL, USA
17 - 21 June 2015: CDIO5* Rotterdam, The Netherlands
25 - 28 June 2015: CDIO3* Aalborg, Denmark
08 - 12 July 2015: CDIO5* Hagen, Germany
09 - 12 July 2015: CDIO5* Falsterbo, Sweden
15 - 19 July 2015: CDIO3* Hickstead, Great Britain
Unfortunately several major competitions and continental championships are scheduled on conflicting dates in 2015. The CDIO's in Hagen and Falsterbo take place the same weekend, together with the 2015 Pan American Games in Toronto, Canada, of which the dressage part is scheduled for 11 - 14 July 2015.
A further major dressage conflict are the 2015 European Pony Championships in Malmo, Sweden, taking place the same weekend at the 2015 World Young Horse Championships in Verden, Germany on 5 - 9 August 2014.
Photo © Astrid Appels
Related Links
2015 German Nations Cup to Take Place in Hagen
Swedish Victory in Kristiansand Narrows Dutch Lead in FEI Nations Cup Series
Emphatic Victory for Germany in 2014 FEI Nations Cup Dressage at Aachen
New Youth Riders Nations' Cup Format to Be Tested at 2014 CDIO-PJYR Hagen
FEI Dressage Nations' Cup Created for 2013