2014 CDIO Kristiansand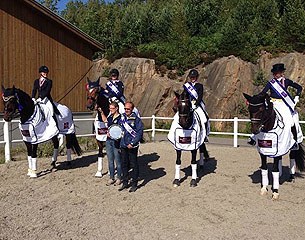 A clear-cut victory in Kristiansand, Norway yesterday has rocketed Sweden to within two points of The Netherlands at the top of the FEI Nations Cup Dressage 2014 pilot series leaderboard. There were four countries in action at this fourth leg of the series, and the hosts, lining out for the first time this season, finished second ahead of Denmark in third place and Finland in fourth.
Kristiansand is a major equestrian centre in Norway, staging international Jumping and Dressage events on a regular basis.  It was the venue for the  Para-Equestrian Dressage Championships in 2009, and this week's FEI Nations Cup™ Dressage took place alongside the 2014 Nordic Championships for Ponies, Juniors, Young Riders and Para-Equestrian athletes.
It has been a busy schedule all week, and yesterday's FEI Nations Cup™ Dressage competition was hotly-contested.  The biggest score of the day was produced by the experienced Swedish anchor partnership of Charlotte Haid-Bondegaard and Triviant. 
A good start
First to come before the Ground Jury of Lone Dichmann (DEN), Torunn Knævelsrud (NOR) Gotthilf Riexinger (GER), Magnus Ringmark (SWE) and Irmeli Summanen (FIN) was Sweden's Emilie Nyrerod, and she made a good start when posting a score of 67.840 with Miata.  She would finish eighth individually at the end of the day, as the Swedish team filled four of the top nine placings.
Nyrerod and Miata rose to prominence in 2012 when dominating the U25 tour in Sweden and pipping considerably more seasoned combinations when winning the Kur at Astorp.  Charlotte Haid-Bondergaard commented after today's FEI Nations Cup™, "we had a really good team here, two riders who are on the Swedish team - myself and Rose Mathisen - and two young riders, really good girls with good horses who are on their way to becoming very good competitors".
Mathisen was sixth into the arena with Bocelli who posted a mark of 67.760, but with only the best three scores from each team being taken into account this would be the discard at the end of the day because Caroline Darcourt and Paridon Magi brought the first half of the competition to a close with a score of 68.080 and then Haid-Bondergaard raised the game even higher.

Icing on the cake
Fifth-last to go, Haid-Bondergaard and Triviant swept home to a score of 70.500 which was the icing on the cake and the second-highest Grand Prix score of the rider's international career.  The final scoreline showed Sweden with just over two points of an advantage over Norway in second, while the Danish side were more than two points further adrift in third and Finland almost three points more in arrears in fourth place.
In the individual rankings, Haid-Bondergaard finished first ahead of Norway's Cathrine Rasmussen and Fernandez, the former ride of London 2012 Olympic Games gold medallist and World No 1, Charlotte Dujardin from Great Britain.  Sweden's Anna Svanberg and Hermes, who were not part of the team, filled third place while Darcourt and Paridon Magi finished fourth and Norway's Ellen Birgitte Farbrot, also not a team rider, slotted into fifth with Tailormade Akon Askelund. Jim Rasmussen carried the Danish flag into sixth place when scoring 68.020 with Broholm's Highlight.
Haid-Bondergaard was particularly pleased with her result. Her partnership with Triviant has not always been an easy one, but at last she feels it is really coming together.

Better to ride
"I have had the feeling for the last four to six weeks that my horse is more quiet and much better to ride - it's like he is listening to me more and we are having fun now!  I could feel a change when we competed in Hamburg (GER) although we made too many mistakes in the Grand Prix there.  After Hamburg he had a small break and then we did the National Swedish Championships, and in the Grand Prix and the Kur I had a great feeling" she explained.
Triviant was previously ridden by Germany's Matthias Rath who steered the horse into eighth place at the World Cup™ Dressage Final in 's-Hertogenbosch (NED) in 2010.
"I bought him in 2011 and we got him in April that year" Haid Bondergaard said, talking about her horse.  "I have him three years now and at the beginning it was very difficult.  He was very strong. The first year was hard and so was the second year but now everything is getting better, I trust him and he trusts me so it all feels very different" the 47-year-old rider pointed out. 
Swedish team-mate, Tinne Vilhemson Silfven, told Haid-Bondergaard to be patient.  "She said to me that it takes three years to get to really know a horse, and I think she is right.  I feel we are on the right road together now!" said Haid-Bondergaard this evening.
Ambition
Looking ahead, yesterday's leading rider added "my ambition of course is to go to the WEG in Normandy, but I'm not getting too stressed about it, I'm taking one competition at a time, if it happens, it happens, and if not then we just continue to have fun!   We will compete in Sweden next Sunday and then Triviant will have a weeks' break out in the field before getting ready for the 5-Star at Falsterbo" she said.
Haid-Bondergaard praised the concept of the FEI Nations Cup™ Dressage series which continues to grow in appeal as the second pilot season progresses.
"This Nations Cup in Dressage is so fantastic!" she said.  "I was on the Hickstead team last year and at Vidauban this year so this is my third Nations Cup and it's very special to have this team feeling.  I think it's very important for us all too, so nice to share the competition with good young riders and competitors from other countries.  There is good prize-money and now we are doing well in the points.  In the end we all improve by taking part in international competition - it is really good for our sport."
Facts and Figures:
Kristiansand in Norway presented the fourth leg of the FEI Nations Cup™ Dressage 2014 pilot series.
The venue is a major equestrian centre which hosted the FEI Para-Dressage Championships in 2009.
4 teams from 4 nations competed today - Denmark, Finland, Norway and Sweden.
The highest individual score of the day, 70.500, was recorded by Charlotte Haid Bondegard and Triviant 2 from the winning Swedish team.
The Ground Jury members were - At E, Lone Dichmann (DEN); At H, Torunn Knævelsrud (NOR); At C, Gotthilf Riexinger (GER); At M, Magnus Ringmark (SWE) and at  B, Irmeli Summanen (FIN.)
Sweden was lying second behind The Netherlands on the FEI Nations Cup™ Dressage 2014 leader board going into today's competition and, following victory this afternoon, the Swedes lie just two points behind the Dutch going into the next leg of the series.
The six-leg FEI Nations Cup™ Dressage 2014 series will continue with Round 5 taking place at CHIO Aachen on 17 July.
Quotes:
Charlotte Haid Bondergaard (SWE): "I train with my husband Rasmus, and once or twice a month also with Kyra Kyrklund".
Charlotte Haid Bondergaard (SWE): I spent 20 years in Germany but I am back in Sweden now for the last nine years, training and producing horses as well as competing.  We have 20 horses at home and three children as well!  One of my daughters is 10 and rides ponies and the other girl is 15.  She took my Grand Prix horse that I almost took to the World Equestrian Games in Kentucky and she was getting along well with him but suddenly he had an attack of colic and died at the age of 17, it was very sad.  So now we look for another horse for her".
Standings in the FEI Nations Cup™ Dressage 2014 pilot series after Round 4 at Kristiansand (NOR):
1.    Netherlands        -    30
2.    Sweden        -    28
3.    Denmark        -    20
4.    USA            -    15
4.    Belgium        -    15
6.    France            -    11
7.    Great Britain        -      9
8.    Canada        -      8
8.    Norway        -      8
10.    Spain            -      7
11.    Australia        -      6
11.    Germany        -      6
11.    Finland        -      6
14.    Colombia        -        4
14.    Russia            -        4
Related Links
Scores 2014 CDIO Kristiansand
Dutch Dominate 2014 CDIO Rotterdam Nations' Cup
Adrienne Lyle Wins Gold in Individual Nations Cup Competition at 2014 CDIO Wellington
Second Pilot Season for FEI Nations Cup Dressage Series Begins with 2014 CDIO Wellington