2023 CPEDI Mannheim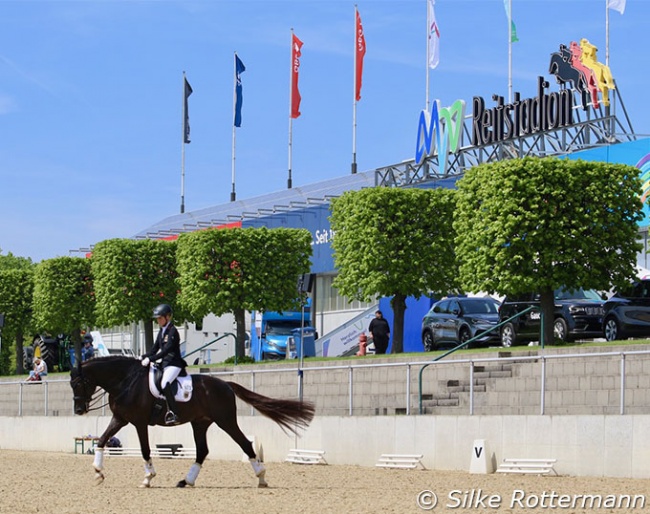 After a cold and rainy spring the fields at home have begun growing nicely, but at the same time my worries increased too as I headed to the 2023 CPEDI Mannheuim: would I face an equally wet showgroun, forced to wear a padded rain jacket and rain hood for the camera. Memories set in when some ten years ago I spent a whole weekend at Mannheim in the tent at the short side while the riders competed in a permanent deluge.
The bigger was my relief when the weather app was right and the first really warm spring day of the year, with temperatures well into the 20s and burning sunshine, welcomed me on Thursday 4 May 2023. I headed to Mannheim after work,  a one hour drive to the show grounds, and the weather was no different when I returned on Saturday morning, only that this time I was better prepared for the glistering sun which had burnt my skin two days earlier.
The Hurdles of Para Sport Over the Years
The CPEDI Mannheim is a para show with a two-decade long tradition and one where the conditions are excellent and well appreciated. However, with the big CPEDI Waregem in Belgium taking place not long before, numerous para riders either go to Belgium or Germany and only some to both shows. Most fields in the five different grades were fortunately bigger than  in the past, corona-struck years, and riders from a remarkable number of 14 different nations contested from 4th to 6th May 2023.
The old image of para sport —riders competing on borrowed horses organized by the show organizer— is long gone and has evolved into one of pretty much the same professionalism as the one of able bodied dressage riders. However, the one difference in para dressage is that a serious number of riders, over all in the lower grades, are still amateurs. This in turn requires a professional environment in which the horses are prepared for the riders who can hardly or not at all do it themselves.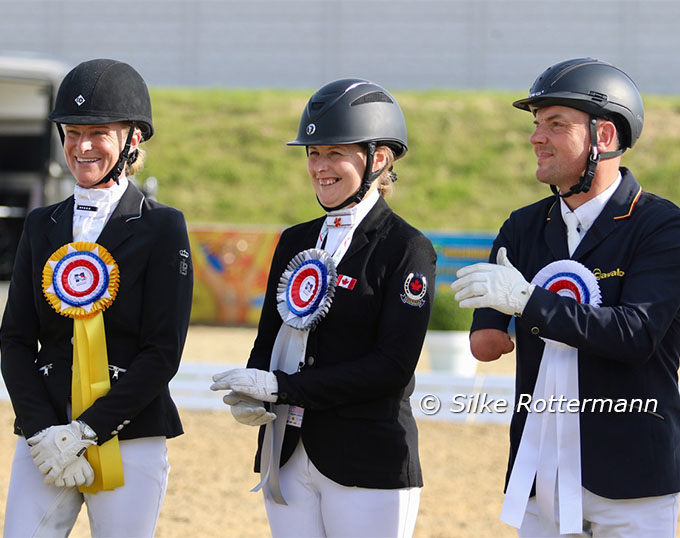 So while the costs are comparable, prize money still remains a far cry from that at CDIs and sponsorships are also not on the same level.
That seems the cracking point in para dressage nowadays and is a hurdle some aspiring riders have to face. So when I personally look at para dressage of today, I feel split. It is fantastic that so many nations take part and the level is ever rising, but some talented riders certainly struggle to make ends meet because the needed horse-power to be competitive is so high in these days. At least in the higher grades with the more difficult movements.
But Mannheim also showed, and it was somehow encouraging, that good training can work miracles with comparatively more ordinary horses.
Warm-Up Observations
I admit I love watching the warm-ups before a class and Mannheim offered the perfect opportunity as both warm-up rings were next to each other, with the competition arena just behind.
So it was much easier to commute between the warm-up ring and competition arena than the years before when para dressage took place in the big Mannheim rider stadium in the back, where now amateur jumping took place.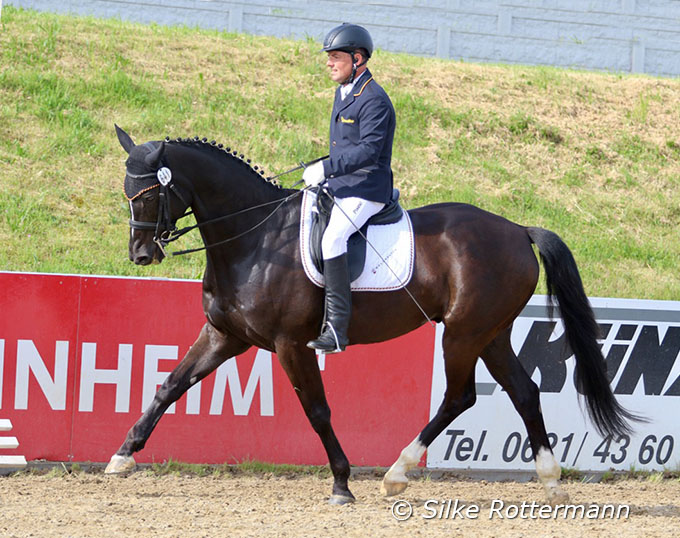 What was striking to me once again is that para riders often ride in dressage saddles which seem more "normal" than those of the able-bodied. Certainly the majority of the saddles have knee-blocks, thinking of the normal sized standard in dressage-saddles for decades, but the huge monster blocks which have become  so 'en vogue' -- may I say almost the norm -- in able bodied dressage, were first used un para dressage for those with severe handicaps, like missing legs or para- or tetraplegic whose balance is accordingly badly affected.
Of course para dressage is only a generic term for five quite different grades which standards differ from riding just in medium walk (Grade I) to an M-level class (Grade V). Riders are categorized based on their handicap. So to compare warm-up styles here is a bit tricky. And while all riders certainly want their horses expressive, just a small number might be interested in making them as "electric" as some able bodied dressage riders prefer and which often goes at the expense of relaxation.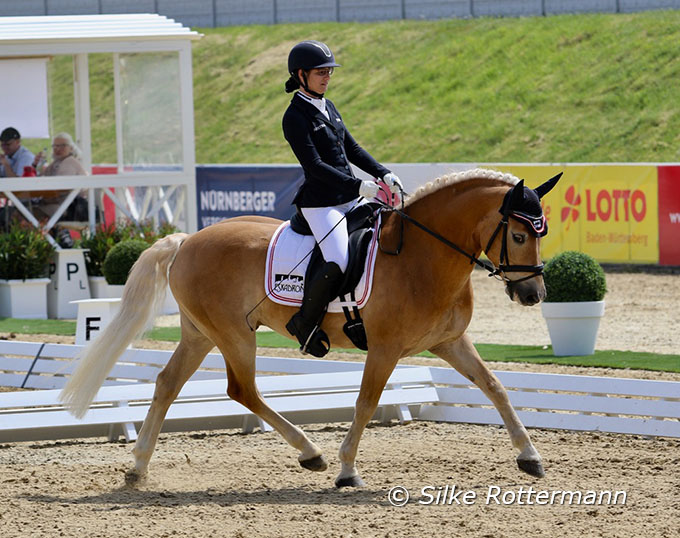 I was nicely surprised that a few riders warmed up their horses by using lateral walk exercises which require a constant change of bend and flexion, instead of drilling movements non end without any relation or gymnastic sense. Positive submission was the key and focus of many riders, thereby creating good pictures. And it is exactly what equestrian sport needs these days.
Personally the strongest impression I got of the Mannheim warm-up was the one of a sportive Haflinger gelding who, you guess it, belonged to the Austrian team. Competed by Michaela Ferringer in Grade 2, the modern bodied representative of this Alpine breed was warmup her by trainer Manuela Rathner. Who has forgotten what a classically trained horse looks like - using every inch of its body correctly from back to front - got a strong reminder watching the 11-year-old Stockholm (by Stelvio) and his trainer.
Grade V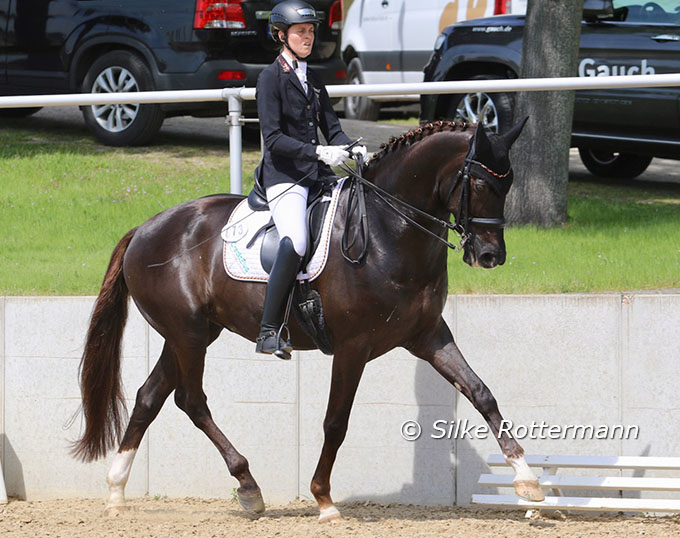 In Mannheim seven riders contested Grade V with German Regine Mispelkamp being the only one with two horses in the field. Mispelkamp has become one of Germany's leading para dressage riders since embarking on the international para scene in 2018, promptly winning a bronze medal at the WEG Tryon the same year. A professional rider all her life, Mispelkamp switched to para riding some time after getting the MS diagnosis.
In Mannheim the petite blonde's top horse, the dark liver chestnut Highlander Delight's, an 11-year-old KWPN gelding by Florencio, had a kind of off-day in the first class on Thursday, being tense and making unusual mistakes. His stable-mate, the one year younger Hanoverian gelding Zenario (by Zack x Royal Highness), stepped in and won the class with 69,40% ahead of Austrian Valentina Strobl and her 13-year-old Hanoverian Bequia Simba (by Bequia x Sandro) who showed very balanced performances over the days in Mannheim. Highlander Delight's redeemed himself in the days after, beat Zenario the next day and took another convincing win in the freestyle on Saturday. With regard to the Europeans in Riesenbeck in late summer this year Mispelkamp is well equipped with both horses.
The most experienced duo of the class proved they are still competitive: Sole Swiss competitor at the CPEDI, Nicole Geiger and her 18-year-old KWPN gelding Amigo (by United x Flemmingh) placed 3rd and 4th, before even taking 2nd place in the freestyle on Saturday. Both always display very correct riding, although the sympathetic bay, who competes successfully up to national Prix St. Georges level in Switzerland, might come to the end of his international career soon.
Grade IV
Grade IV at Mannheim had the biggest field with 13 participating riders.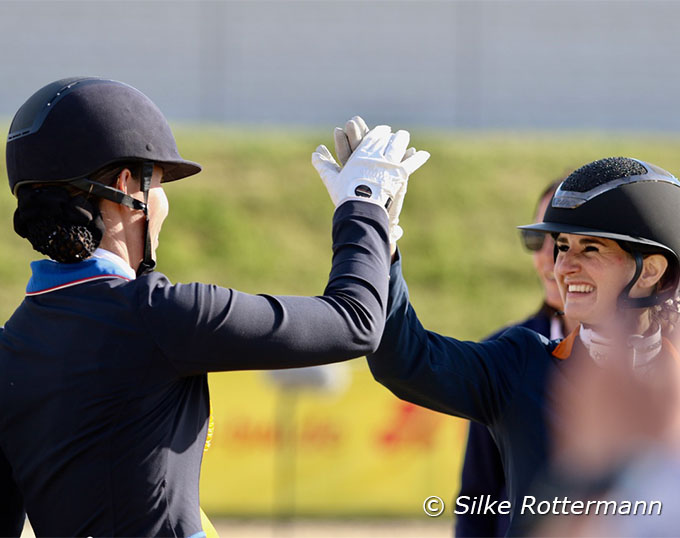 The first two classes were clearly dominated by American team rider Kate Shoemaker and her relatively new ride, the stunning 9-year-old Rhinelander mare Quiana (by Quarterstern x Rubinstern Noir), a former finalist at the World Championships for young dressage horses which sold to the USA at the beginning of 2022 and immediately won freestyle silver with Shoemaker at the 2022 World championships in Herning. In the class on Thursday the bay won almost 7% ahead of Dutch Melissa Janssen with the massive 18-year-old Hanoverian Royal Rubinstein (by Rubin Royal x Sao Paulo), quite a look-alike of his recently deceased sire. He sold to Janssen in 2021 when the horse's rider, Belgian David Engelen, retired from competition sport.
Janssen was the only rider with two horses in Grade IV and also placed well with the 17-year-old Westfalian Dreamy Boy (by Dream On x Donnerhall), even coming 3rd in the 2nd class on Friday with him. Whereas after the first class it seemed like Shoemaker might be invincible, the freestyle held a welcome big surprise in the eyes of team Germany which had to relinquish their most experienced Grade IV rider Hanne Brenner, who is still in a nearby hospital after an accident a few weeks earlier.
The 21-year-young Noah Kuhlmann from the south of Germany and his 13-year-old Rhinelander stallion with the striking name Staatslegende (by Statesman OLD x Lanciano) were considered an up- and coming pair in this grade. Their 3rd place in the freestyle at the CPEDI Randbol in Denmark at the beginning of the season had shown that they are a pair to watch if the elegant brown stallion is relaxed and shows what he is capable of. In Mannheim both had come only 8th and 7th in the classes before, but showed all their great potential in the freestyle on Saturday and stayed more than 1% ahead of Quiana to win the freestyle.
Grade III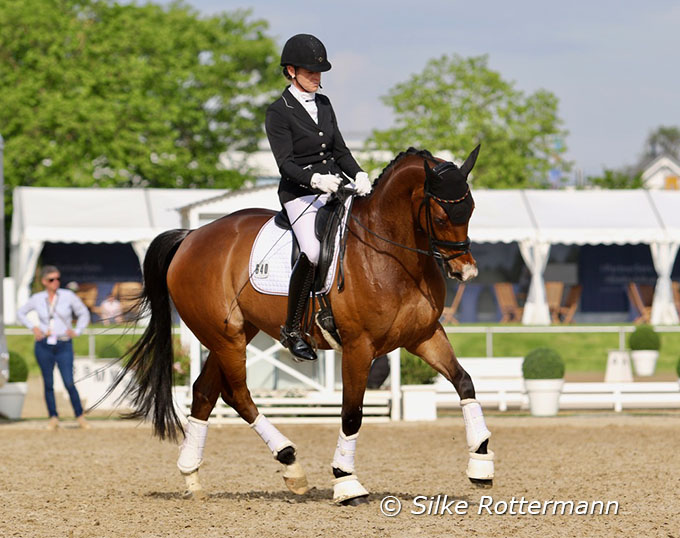 The CPEDI in Waregem in Belgium two weeks earlier had already shown that Germany's 43-year-old Melanie Wienand is on a rise and her top mount Lemony's Loverboy (by Lemony's Nicket x Fürst Piccolo) even improved from last season. Wienand is quite well known, formerly been an auction rider. She unfortunately had a fall in 2011 and suffered a traumatic brain injury which left her with a neurological handicap.
Wienand and her light-footed bright bay gelding won the first class and had Canada's Roberta Sheffield and Fairuza close on their heels. The now 14-year-old Gelderlander mare of unknown pedigree has quite a different way of going compared to, for example, Lemony's Loverboy; but through training the dark-bay mare has got an even bouncier trot and while she doesn't have the easiest of conformation for dressage, she makes well up for it with her rideability and good will. Working towards PSG at home in England, Fairuza managed to win the 2nd class and the freestyle ahead of the German pair.
Third on all three days was Germany's long-time team member Steffen Zeibig and his new mount, the rather small framed, but very light-footed Trakehner gelding Patamon (by Windsor x Enima Pascha) who is hoped to become a dignified successor of the German's last team horse, the now retired Fürstenball mare Feel Good.
Grade II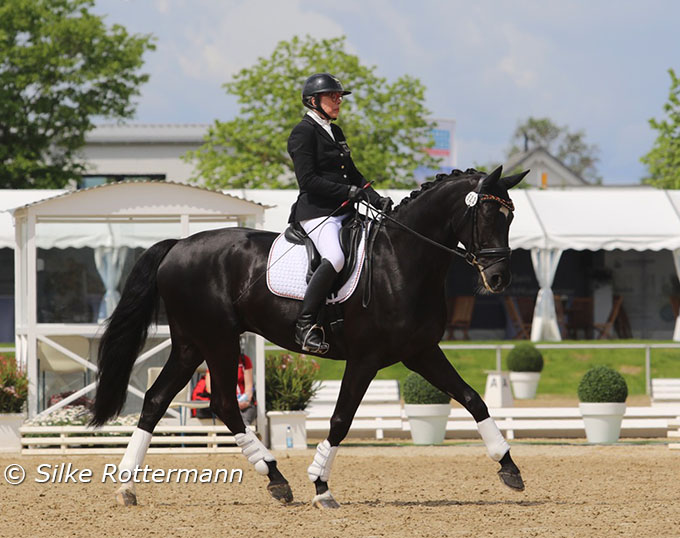 Grade II only had a small field of 5 riders, but proved that dressage is a sport in which sportsmen can be competitive much longer than in most other sports.
The 67-year-young Heidemarie Dresing retired her Hanoverian mare La Boum, with whom she placed 4th at the Tokyo Paralympics, and has found a more than adequate successor. The dark bay Oldenburg gelding Dooloop (by Dressage Royal x Rouletto) is an exciting new horse who fits his rider like a glove. This new pair won in Waregem and continued their winning streak in Mannheim. In all three classes, just like in Belgium, Dresing stayed ahead of US Fiona Howard and the Westfalian gelding Jagger (by Johnson x Sandro Hit),  a pair that is trained by Kate Shoemaker and came over to Europe to contest with the top riders here. Mannheim was a successful time on European soil for trainer and student alike!
Third in every class was German Julia Porzelt, who lives in Bavaria, and her 11-year-old Breitling son Bruno. A big framed horse, the chestnut gelding has clearly improved and scored over 70% twice.
Grade I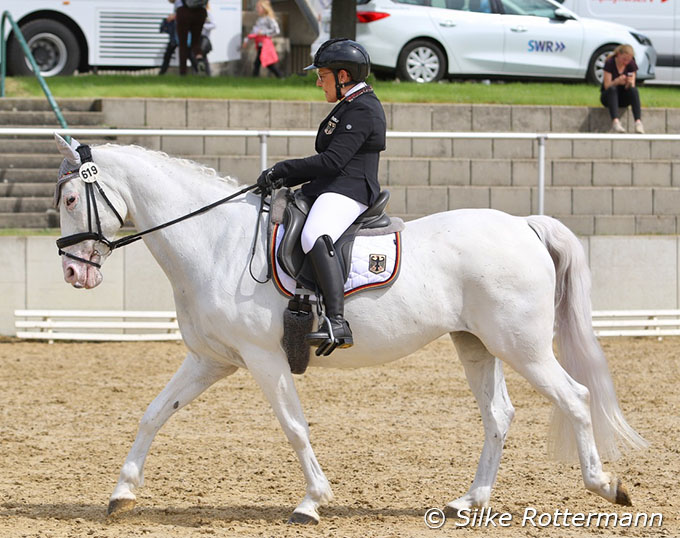 Grade I, in which the most severely handicapped riders contest and in which only walk is ridden in the first two classes with the possibility of adding trot in the freestyle, saw quite a big field of 11 starters. Admittingly World Champions Rihard Snikus from Latvia and Sara Morganti from Italy were absent (after having been successful in Waregem), but Mannheim still saw a few of the world best riders.
The variety of horse types in Mannheim, from the tiny looking Lipizzan mare Nautika to the huge Greek horse Lotopequi, always amazes me in this Grade. There you can find the former driving or Grand Prix horse, as long as they show an exceptional walk, forward and bomb proof in rhythm, and with a golden character.
It is not often in equitation that the national anthem of Singapore is played, but in Mannheim the harmoniously looking Hanoverian gelding Banestro (by Bonifatius) took all three classes in Grade I with his petite rider Gemma Rose Jen Foo. Trained by German Volker Eubel from Cologne, Foo followed in the footsteps of her compatriot Laurentia Tan who had won the Mannheim freestyle last year, also with Banestro.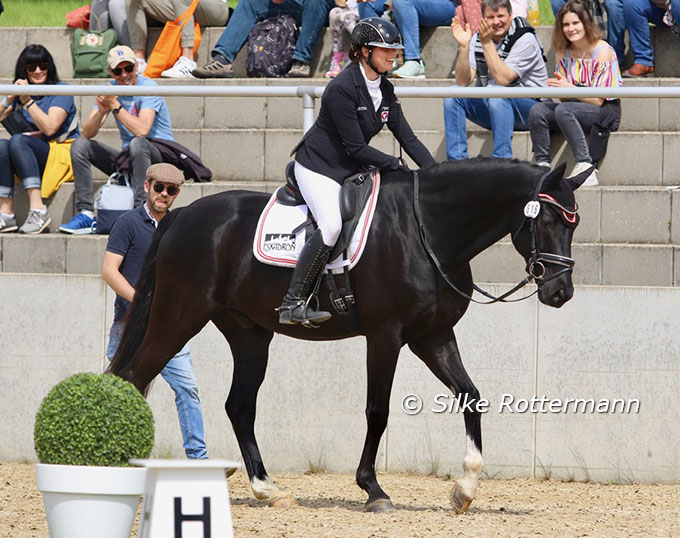 After a change of trainer, it was the season opener for ever smiling Austrian Julia Sciancalepore and her 11-year-old Hanoverian gelding Heinrich (by Heinrich Heine x De Niro) who are now coached by former Austrian young rider Christopher Erdmann. Two second places and a third place in the freestyle, in which Julia also showed trot sequences and walk half-passes, were a successful season debut.
The 17-year-old Lipizzan mare Nautika (by Pluto Darina x Favory Santa) was one of the most successful Grade I horses of the previous year and missed the World Championships in Herning due to lameness at the very last second. This year Martina Benzinger and her grey won all classes at the CPEDI in Denmark earlier in the season, but had to be content with  third, fourth and a second place in Mannheim where both had won two classes the year before. According to the rider they suffered the bad luck that on Friday a horse broke loose and affected their warm-up, which wound up the ever so cool Nautika a bit. The cute mare with the pink nose is the epitome of reliability and diligence and perhaps their championships debut might finally realize this year on home turf?
Nations Cup
Germany's new team coach, Silke Fütterer-Sommer, can be optimistic towards the European Para Championships hold in Riesenbeck, Germany at the start of September.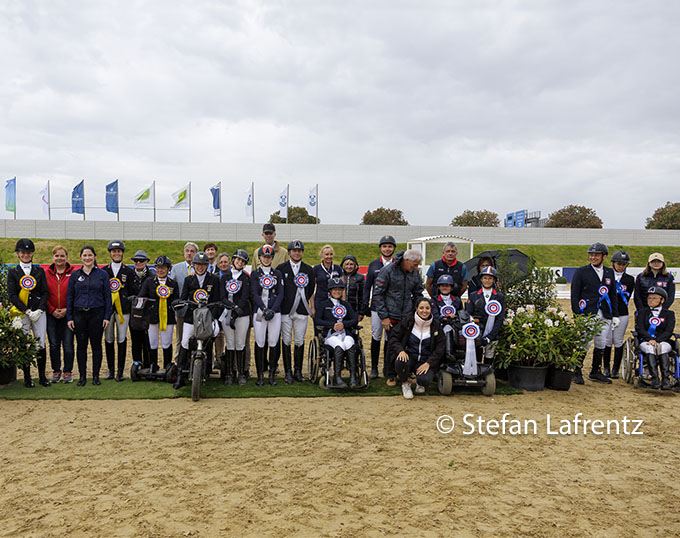 Her team won the Nations Cup well ahead of Austria, France and Poland, but of course strong para nations like Denmark, the USA, Great Britain and The Netherlands did not field teams for Mannheim.
At the conclusion of the CPEDI Mannheim, Fütterer's very successful predecessor Bernhard Fliegl was honored with the riders' cross in bronze of the German equestrian federation for his achievements as the German national para team coach the past 12 years.
Text and Photos by Silke Rottermann for © Eurodressage (this article expresses Silke Rottermann's eye-witness account and opinion about the show)
Related Links
An Afternoon at the 2022 CPEDI Mannheim
Photo Report: Witnessing Good Sport and Equitation at the 2021 CPEDI Mannheim
Para Dressage at its Finest at 2022 CPEDI 3* Waregem
Steffen Zeibig's Feel Good Retired from Sport
Roberta Sheffield: "Look for What's Hidden in Someone's Garden Shed and Make it Into a Star"