The Netherlands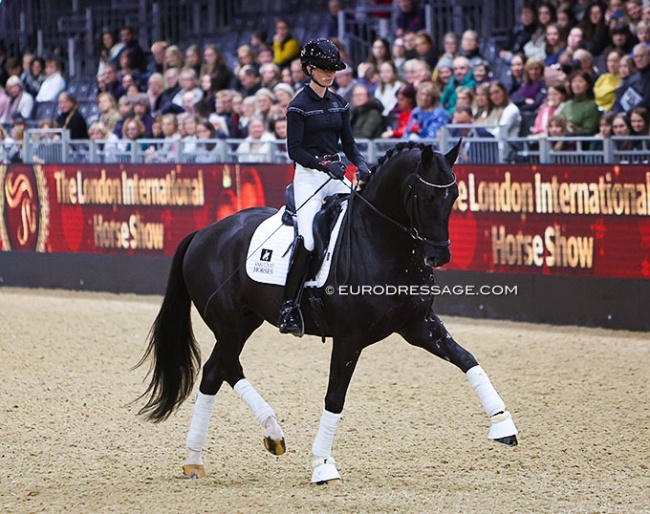 The entries for the first Dutch team selection trial for the 2023 World Championships for young dressage horses are known. The first qualifier is set to take place in Nunspeet on 9 and 16 May 2023.
The Dutch equestrian federation and KWPN society will be holding three qualifiers. The first one is run over two days and top 20 horses per age division are invited to the second qualifier in Ermelo on 13 - 14 June. The top 12 per age division goes to the third qualifier on 4 July in Ermelo after which the team will be announced.
The Dutch selectors are Emmelie Scholtens, Johan Hamminga, and Veronique Roerink.
Horses entered for the first qualifier are:
Nunspeet - 9 May 2023
5-year olds
Charlotte Fry  - Nacho (by Negro
Linde Hofs  - Novice Vita (by In Style
Jesper Van Heijst  - Nexter Carlos O (by For Romance
Christel Heuseveldt  - No Secret (by Secret
Wendy Kuiken  - Novian (by Apache
Ingrid Gerritsen  - Neverwinter G (by Expression
Bart Veeze  - Nero (by Ferguson
Sem Stiemer  - N (by Indian Rock
Edith Chardon  - Dutch Dream (by Dream Boy
John Tijssen  - Nick Wimphof (by Just Wimphof
Marlou De Ruyter  -New Orleans (by Blue Hors Farrell
Harmina Holwerda  - Gouverneur fan 't Hertefean (by Nane 492
Charlotte Fry  - Nalegro (by Painted Black
Femke De Laat  - Nintendo Ds (by Just Wimphof
Phoebe Peters  - Everest (by Especial
Cynthia Eggenkamp  - No Nonsense D (by Glamourdale
Hester Bransen - Narcos (by Geniaal
Monique Haazelager  - Now It'S Loxely Time Evo (by Lord Of Loxely 
Robbin Kleermans. - New Girl (by Expression
Marijke Van Giesen  - Naturique C-Two (by Toto JR
Janna Kes  - Hidde (by Omer 493
Ykje Baron  - Gjald (by Elias 494 P
Marlou De Ruyter - Nora (by Grand galaxy win
Charlotte Fry - Nova-Liz (by Everdale
Emma Van den Hooven  - Nash  (by Desperado 
Judith Ribbels  - Nanny Mc Phee (by Vitalis
Julia de Ridder - Nyrone Fortuna (by ferdinand
Karlijn Geelkerken - Next Toto (by Toto JR.
6-year olds
Kimberly Pap - Martinez (by Toto JR.
Lotje Schoots -  Irvin (by Inspire))
Robert-jan De Visser  - Manchester TC (by Dream Boy)
Wesley Mulder -  Mascotte-Strh. (by Toto JR.)
Heleen De Haas  - Finne T. fan 'e Boppelannen (by ehannes 484)
Amber Hage  - Mercurius ACM (by Dream Boy)
Femke De Laat  - Mission (by Eye Catcher)
Corina van den Bunt  - Edon van Groot Altena (by Julius 486)
Tessa De Roon  - Marilyn Morka (by Ferdeaux )
Franka Loos  - Mapache (by Apache)
Danielle Heijkoop - Mac Toto (by Toto JR.)
Noa van Rijbroek -  My Romance Vrb (by For Romance)
Lotje Schoots  - Mufasa (by Franklin)
Krista Kolijn  - Ma Belle (by Governor)
7-year olds
Karlijn Geelkerken  - Lianne D (by Ebony )
Christianne Goes -  Leonardo Vdt (by Zonik)
Marie-josé Calis - Limited Edition (by All at Once)
Myrthe Wedda  - Lotus-S (by Grand galaxy win)
Dominique Veenstra - Brinkhof's Lots Of Likes (by Grand galaxy win)
Kirsten Teeuwen  - Lita Morka (by Toto JR.)
Mercedes Verweij - Lyndon B Johnson Sv (by Johnson )
Linda van der Hauw  - LN Lunadette (by Grand galaxy win)
Adelinde Cornelissen  - Luqiedo (by Aqiedo)
Nunspeet - 16 May 2023
5-year olds
Kim Alting  - Dark Rousseau (by Dettori)
Jesslin Vinkesteijn  - Nashville (by Glamourdale )
Angela Lakenberg. - Noradessa (by Guardian S)
Marieke Prins - Ni Vini Vici (by Vivaldi)
Nils Ekkerman - Natural Feeling (by Incognito)
Joyce  Lenaerts - Night Of The Proms Apple (by Blue Hors Farrell)
Lotte Van Engelen  - Nijntje (by Valverde)
Eline Anker  - Newsation Stmt (by Sensation)
Tessa Van Os - Niana V.O.D. (by Desperado)
Kim Noordijk  - This is Naqueen (by Trafalgar)
Thalia Rockx. - Naomyi De La Fazenda (by Secret)
Annelotte Felix  - Nadira Esther Svn (by Vitalis)
Kim Alting  - Next Level (by Desperado)
Theo Hanzon  - Nabuco Van Het Goorhof (by Secret)
Kim Koolen  - Nirvano (by For Ferrero)
Amber De Groot - Night Shadow (by Guardian S )
Femke De Laat - Nashville Sw (by Secret
Dinja Van Liere - Nashville Star (by Desperados))
Febe van Zwambagt  - Newport (by Toto JR. )
Marsja Dijkman -  Hielke 530 (by Jorbert fan 'e Suderleane)
Nicky Snijder  - Nashville Sth (by Rubin Royal)
Robin Heiden  - Next Romancier (by Furst Romancier)
Dirk-Jan van de Water - SPH Noah (by Toto JR.)
Mirthe Den Hollander  - Noblesse Oblige (by Lord Of Loxely)
6-year olds
Maxime Osse  - Manila Grace (by Guardian S)
Annelotte Felix  - Merle Quina Tf (by Toto JR.)
Lisanne Der Nederlanden  - Mayflower (by Havanna)
Rianne Kooistra  - My Style T-A (by In Style)
Mara De Vries -  Mellevanck PP  (by Toto JR.)
Christianne Goes -  Melito Ld (by Toto JR.)
Annabel Rootveld  - Mister Jazz (by Jazz)
Hans Peter Minderhoud  - My Toto (by Toto JR.)
Laura Roling  - Floris van de Terpen (by Hessel 480)
Kirsten Brouwer  - Magnum (by Furst Romancier)
Iris Sijtsma  - Fedde vân de pôle (by Meinte 490)
Susan Wind  - Diesel Galloper (by Omer 493)
Quinty Vossers  - Mister Malibu R (by Fürstenball)
Hennie Roffel  - Arizona TKJ (by Hette 481)
Curro Benitez Sanchez  - Magic Johnson Van De Edcohoeve (by Johnson )
Beni Pachl  - Hexagons Gorgeous Black Art (by Toto JR.)
Thamar Zweistra  - Hexagons Mr Magnum (by Expression)
Maxime Osse  - Micky (by Elcapone)
Dinja Van Liere  - Mauro Turfhorst (by Zonik)
Gerdine Maree. - Massimo   (by Toto JR.)
7-year olds
Hans Peter Minderhoud - Las Vegas (by Ferdeaux)
Kirsten Brouwer - Lightning Star (by Ferguson)
Nicky Snijder - L'Unique Sth (by Boston)
Dirk-Jan van de Water  - Licor (by Vivaldi)
Robin Heiden - Lakewood (by Jazz)
Zoë Kuintjes - Lacrosse RS2 (by Ferdeaux)
Astrid Langeberg  - Leco Vdv (by Negro)
Thamar Zweistra - Hexagons Luxuriouzz (by Johnson)
Curro Benitez Sanchez - Lord Platinum (by Ferguson)
Meghan Mühlebach  - Let's Play (by Franklin)
Dinja Van Liere  - Leonidas (by Trafalgar)
Jessica Nijpjes  - Luna (by Governor)
Jose Kouwenhoven   - Lady Toto (by Toto JR.)
Niels Bax  - First Lewis (by Ferguson)
Marielle Spierings  - Linskymorijke (by Negro)
Kirsten Brouwer  - Lennoxwaard (by Elcapone)
Photo © Astrid Appels
Related Link
Eurodressage Coverage of the 2023 World Championships Young Dressage Horses