2023 CDI-W Amsterdam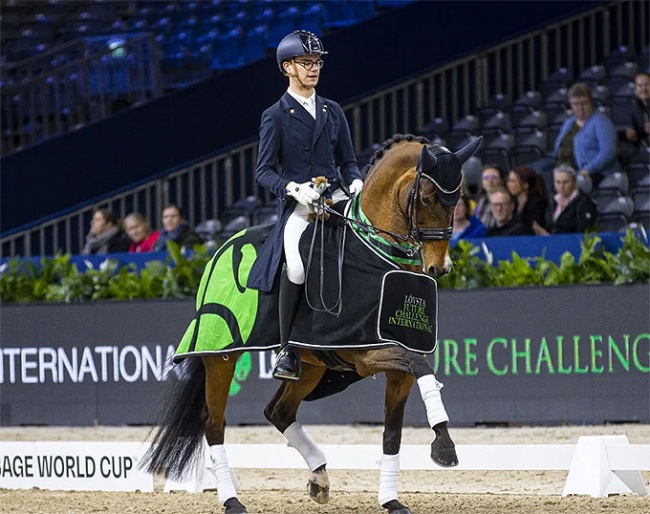 Dutch Marten Luiten made it a homeside victory in the Lövsta Future Challenge International Tours for Under 25 riders of which the second leg out of three was held today, 27 January 2023, at the CDI-W Amsterdam.
 Luiten and his 2021 European Young Riders Champion's horse Fynona (by Ampere x Gribaldi) won the Under 25 Kur to Music with a whopping 78.558%.
" It was such a great feeling to ride here today," he commented after his second victory of the show, having won the Short Grand Prix as well. "I had a much better feeling than on Wednesday, Fynona was a little more relaxed and with me today. At the end I probably relaxed a little too much and then we had a miss in the one tempis, but apart from that I'm super happy."
Eight riders from four different nationals competed in the Amsterdam leg of the tour. Four of them were Dutch so it was little surprise that these home heroes revelled on their own turf.
With nearly faultless rides of high difficulty, Thalia Rockx, Marten Luiten and Jessica Poelman held a firm grip on the top 3 for a long time. However when the last rider out of the starting field came in, Danish Thea Bech with the the 13-year old KWPN gelding Dionisos (by Spielberg x Sir Sinclair), the top three changed. The Dutch based Bech scored 77.12% to secure a second place.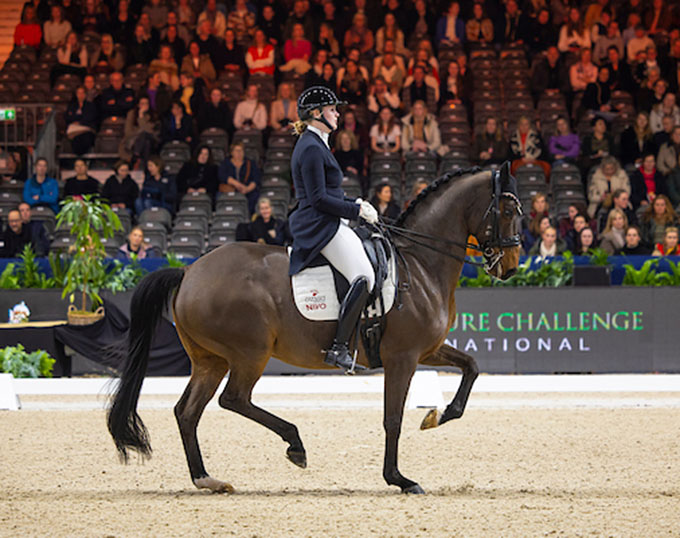 "This was the second time we rode our freestyle, which has the Hg School Musical theme," said Bech. "It is my boyfriend who helped me put together both the program and he also the music. I am very happy for the opportunity to compete in an arena like this, the is so educational for us U25 riders."
Third place went to Thalia Rockx with 21-year-old Verdi de la Fazenda (by Florestan) on 76.617%.
Jumping Amsterdam is the second of three competitions where the Lövsta Future Challenge International Tour is ridden. The concept creates opportunities for U25 riders to compete in the international arenas where the FEI Dressage World Cup™ are being held. The  tour ends at the Gothenburg Horse Show 22-26 February 2023.
Photos © Lovsta / Digishots
Related Links
Scores: 2023 CDI-W Amsterdam
Lovsta Future Challenge Goes International - Tour for U25 Riders at Three World Cup Qualifiers
International U25 Tour to be Included at 2017 European Championships in Gothenburg
Lovsta Future Challenge Cup, a New Initiative to Strengthen the Future of Swedish Dressage